Social Media
#Everything to Remember Ahead of 'The Politician' Season 2
"Everything to Remember Ahead of 'The Politician' Season 2"
Netflix
Ryan Murphy's campy dramedy 
The Politician
, depicting Payton Hobart's (Ben Platt) political journey, returns for Season 2 on Friday, June 19, and now is the perfect time to brush up on Season 1.
After focusing on his run for student body president at the wealthy Saint Sebastian High School, Season 2 will focus on Payton's attempt to win the current New York Senate seat being held by Judith Light's Dede Standish. With the help of his eclectic group of friends, Payton will work to expose secrets, lies and more as he continues his goal of one day attaining the highest office in the land.
Before diving back in to the story for Season 2, we're taking a look back on some key pieces of information from Season 1 that will likely play a role in upcoming plot lines when The Politician returns. If you have yet to tune into the quirky show, beware of major Season 1 spoilers ahead.
The Politician, Season 2 Premiere, Friday, June 19, Netflix
Netflix
The Throuple
When viewers met Dede Standish (Judith Light) in the Season 1 finale, she was tapped for a possible running-mate position with the Texas-based politician Tino (Sam Jaeger). Asked whether she has any skeletons in her closet that would make a Vice Presidential run problematic, Dede swears she's up to the task and her Chief of Staff Hadassah Gold (Bette Midler) confirms that Standish is a prime option. Fans quickly learn this isn't exactly the case when they discover she's in a throuple with her husband Marcus (Joe Morton) and William (Teddy Sears). The truth could topple her carefully crafted image and Payton's former classmate and fellow political enthusiast McAfee shares this information with him after she interned for Standish.
Netflix
Alice Left the Altar
Set in the future, the finale saw Payton's former girlfriend Alice (Julia Schlaepfer) on the eve of her marriage, but she abandoned her groom at the altar. Opting to join Payton in his journey, Alice appears to have taken up her role as his significant other in front of cameras, but will the continued connection to his "true love" River (David Corenswet) who killed himself in the series premiere get in the way of keeping up appearances?
Netflix
What Happened to Georgina?
Payton's mother Georgina (Gwyneth Paltrow) bid her son farewell in a train station as she went to explore life with love Brigitte (Martina Navratilova). Her absence in Payton's life seems to have had a negative effect considering his "rock bottom" state in the flash-forward finale. Will her re-emergence in Season 2 lift him up or tear him down as he reconstructs his political ambitions? In the Season 2 logline, it is hinted that Georgina will make a decision that could upstage Payton and the things he hopes to accomplish.
Netflix
Astrid's on Payton's Team
In a shocking twist of events, Payton's high school classmate and main antagonist is Astrid Sloan (Lucy Boynton) as she ran against him in the student body presidential race. Astrid also was River's girlfriend leading to some even more tension between Payton and herself following the suicide. At the end of the day, it's hard to tell whether she'll stay loyal to the campaign or be strayed, and fans know already that they can certainly keep each other on their toes.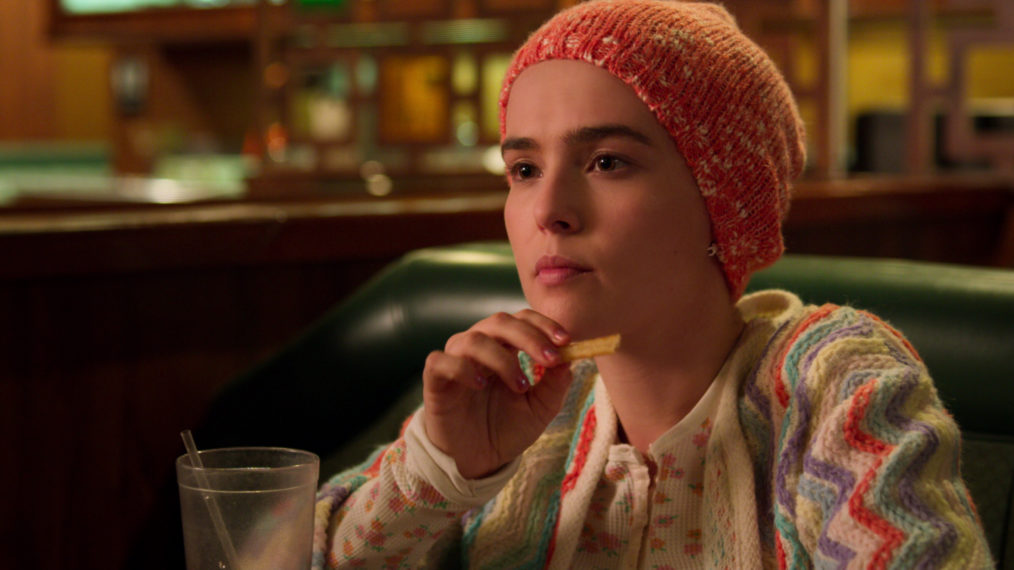 Netflix
Missing Information
In the show's time-jump between the penultimate and finale episodes from Season 1, a lot of things went unexplained. While we can assume how some things shook out, particularly what happened after Trinity's (Zoey Deutch) grandmother Dusty (Jessica Lange) was arrested for various offenses including poisoning Trinity, killing Trinity's mom and putting a failed hit out on Payton. In the future, Trinity seems to be thriving but it's hard to know how she got there, although there was some mention of a book deal. Still, a lot of chaos was teased in the penultimate episode that was never fully fleshed out enough to explain how the characters of this campy comedy ended up where they did. Hopefully some clarification is on the horizon.
Netflix
Written Out of the Will
After Payton's father Keaton (Bob Balaban) learned of Georgina's indiscretion in their marriage as she pursued Brigitte, he announced that he'd written her and Payton out of the will leaving them somewhat destitute in comparison to their lavish lifestyle pre-announcement. Considering this, it will be interesting to see where Payton gets his campaign funding from, whether Georgina's done well for herself since setting off with Brigitte or if he'll have to be resourceful. No matter what, it's sure to be a wild ride.
If you want to read more Like this articles, you can visit our Social Media category.
if you want to watch Movies or Tv Shows go to Dizi.BuradaBiliyorum.Com for forums sites go to Forum.BuradaBiliyorum.Com