Social Media
#'The Twilight Zone' Season 2: Which Episodes Had the Best Twists?
"#'The Twilight Zone' Season 2: Which Episodes Had the Best Twists?"
Spoiler Alert Robert Falconer/CBS
[Warning: The below contains MAJOR spoilers for Season 2 of The Twilight Zone.]
You've traveled to another dimension for another season of cautionary tales, and chances are some surprised you more than others.
The second set of episodes of CBS All Access' reimagining of The Twilight Zone from Jordan Peele (back as narrator) and Simon Kinberg explores the themes of identity and being careful what you wish for (and getting what you think you want with dastardly results).
What happens when your life is swept out from under you just as you've gotten what you want, like in "Downtime," "The Who of You" and "You Might Also Like"? What if a visitor from elsewhere, like in "A Human Face" and "8," has the potential to be your downfall?
Scroll down as we rank the twists of Season 2, from most to least predictable.
Dean Buscher/CBS
"Meet in the Middle" (Episode 1)
Cast: Jimmi Simpson, Gillian Jacobs
The lonely Phil (Simpson) thinks his dating life has turned around after he begins hearing Annie's (Jacobs) voice in his head. Sure, she's married, but she "hasn't been happy for years," she assures him. In fact, she "feels trapped" because her husband is "not a great guy." And Phil "gets" her. They plan to meet, but then she tells him she's being followed, and he follows her clues to a house in the woods. He kills the man inside that he presumes to be her kidnapper … only he's her husband, and Annie seems to have no idea who he is as the police burst in.
But … After he's arrested, Phil thinks his psychiatrist was right and he just hears voices … until Annie's voice returns to thank him for the "better future" she and her daughter now have. "You were my escape hatch. You saved us. Now my life can finally begin, all because of you," she explains. "All I ever did was tell you what you wanted to hear, and you were willing to kill for it."
The twist was among the more predictable ones. Annie always says just enough to pull Phil in and leave him wanting more and knows exactly how to manipulate him to get the results she wants. In fact, this exact plot seems like it came straight from a procedural drama, with a Twilight Zone (telepathy) twist.
Dean Buscher/CBS
"You Might Also Like" (Episode 10)
Cast: Gretchen Mol, Greta Lee
Mol's stay-at-home housewife Mrs. Warren is as eager as everyone to get her "Egg," a mysterious device that is supposed to make everything better for everyone forever, until she begins blacking out. She tries canceling her pickup and eventually comes face-to-face with the cause of her experiences — the Kanamits (the aliens from the 1962 classic episode "To Serve Man") — and demands to speak to their supervisor.
Onboard their ship, she details her life, including that she delivered a stillborn baby girl two years ago. With their hive mind, the aliens fear how often humans change their minds and gave them the "Egg." (Humans are most vulnerable when they "perceive a lack of something.") "The idea…was yours," the "supervisor" says. "So that everything could be OK again, and this time forever. … Because there won't be any human beings around to change their minds about it."
But … even after Mrs. Warren knows the Eggs were designed to eradicate the human race, she chooses to return to Earth and pick hers up. "I just want to hold it," she says. "Because it's mine." Anyone who knows The Twilight Zone and the first Kanamits episode (that cookbook!) could guess where this one was heading.
Dean Buscher/CBS
"The Who of You" (Episode 3)
Cast: Ethan Embry, Billy Porter, Daniel Sunjata
Harry (Embry) is struggling professionally (he can't get an acting job) and personally (his girlfriend Morena isn't happy with his refusal to work at anything) when he decides to rob a bank. That's when he suddenly finds himself switching bodies with those he makes eye contact with and uses it to his advantage, even taking over a young boy's body to gain access (via his apartment) to the psychic's (Keith) shop in which he leaves his stolen bag of money.
Detective Reece (Sunjata) is on the case and believes it isn't Harry in his body in the interrogation room … only for Harry to take his body when the two finally cross paths. When the police burst into arrest the robber, we hear a gunshot. Who survives?
Harry lives, in Reece's body … and learns the detective has been having an affair with his girlfriend. He keeps up the charade, and his professional life is looking up, too. After his experiences, Harry is now succeeding as an actor because he's "really inhabiting the characters."
Though it was an entertaining episode, it's another predictable ending, from who survives (and in which body) to the reveal of Reece's secret. The suspense was briefly present when it came to the latter … until the affair was revealed.
Robert Falconer/CBS
"Ovation" (Episode 4)
Cast: Jurnee Smollett, Tawny Newsome, Sky Ferreira, Paul F. Tompkins, and Thomas Lennon
Jasmine (Smollett) is a struggling musician until a pop star gives her a gold coin before stepping in front of a bus. Suddenly, Jasmine's luck changes, and she's an instant hit, winning the popular Ovation competition (hosted by Lennon) despite barely playing anything and messing up. But soon, the fame and her fanatic following get to be too much; she and her sister, Zara (Newsome) have to hide while out on a jog, and when her hit song plays in an OR, the surgeons — and the guy with an open chest on the table — stop to applaud.
Though reluctant to give up the glory, Jasmine gives the coin to her sister to throw away and retreats to a cabin in the woods, until she sees there's a hot new act all over the tabloids. She goes to one of the singer's events and stabs her in the back, only to discover ….
The star is her sister. Given that we never actually saw Zara throw away the coin and only saw the eyes of the singer on the magazine covers, this was an obvious one. And while it was easy to feel the pressure building on Jasmine the longer the coin was in her possession — and then when she saw the next hot star — it just wasn't enough to make this twist one of the season's best.
Dean Buscher/CBS
"A Small Town" (Episode 8)
Cast: Damon Wayans Jr., David Krumholtz, Natalie Martinez, Paula Newsome
After Littleton's mayor's death, Conley (Krumholtz) takes over, and he doesn't have the best intentions for the town. But the previous mayor's husband, handyman Jason (Wayans Jr.), finds a scale model of the town in the church's attic. As he discovers, anything that happens in the model happens to the real Littleton, so he fixes its problem areas. However, Conley gets the credit for the "miracles," and Jason retaliates by crushing his car with a meteor and controlling a spider attack one night.
Still, Jason does want what's best for the town, so he tries brightening up the sign, only to accidentally cause a blackout. When the town turns on Conley, Jason comes clean. But the mayor wants to use the model to turn Littleton into "new Vegas," and the model breaks during the men's fight. Fortunately for the town, Jason's gold wedding ring had fallen onto the model, so while the magic may be gone, they'll be able to pay for the damages.
There wasn't much of a twist compared to the other ones, though it was definitely one of the season's best installments. The magical model isn't quite an original concept, and fortunately, when Conley tried to turn the town on a kid, it didn't work and everyone didn't descend into madness as they could have.
Robert Falconer/CBS
"Downtime" (Episode 2)
Cast: Morena Baccarin, Colman Domingo, Serinda Swan, Tony Hale
Baccarin's Michelle thinks life is as great as it can be after securing her promotion to hotel manager … until suddenly everyone around her stops and stares at a giant orb in the sky. She grows more and more confused — especially when her husband suddenly changes his accent and says he's someone else…
Then "customer service" (in the form of skateboarders), explains: she's in the middle of world maintenance, for an alternate reality in which people play characters while they sleep. She's really a man, Finneas, who had a heart attack and is now in a coma in the real world. Refusing to wake up, she runs from the skateboarders, until "escalated priority customer service," Tom (Hale), finds her and tells her Finneas died and she's free to stay.
But "how can I stay in a world I know isn't real?" she asks before turning to face the orb … only she does choose to continue being hotel manager Michelle. And Finneas' wife Ellen (Swan) checks in at the end of the episode.
This twist wasn't as predictable as others, and it has the added benefit of not only being an entertaining episode, but one of the shorter ones (31 minutes), too. Did we guess that something wasn't quite right about Michelle's world from the beginning? Yes, but Baccarin played up her confusion so well we wanted to keep following her story.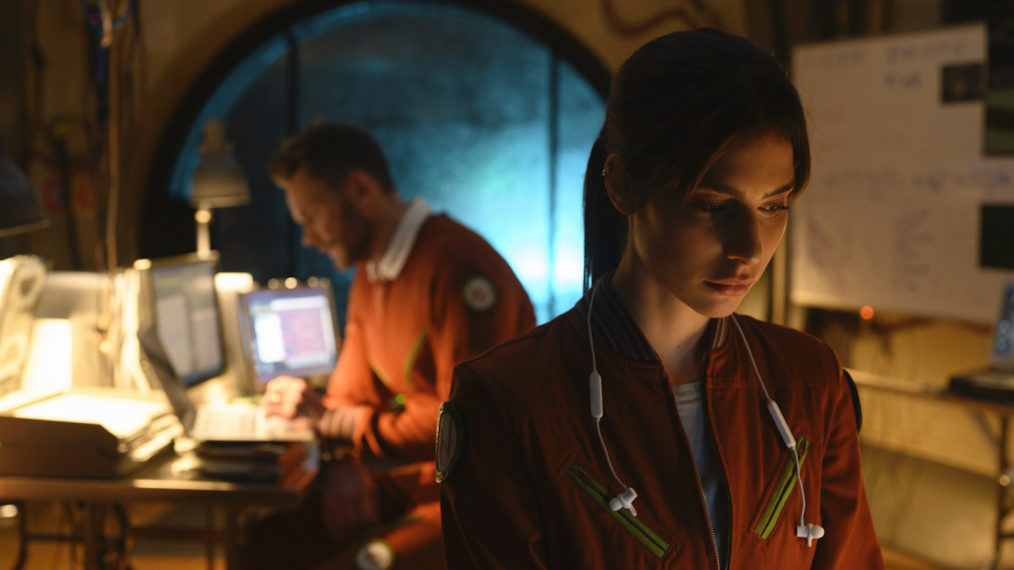 Robert Falconer/CBS
"8" (Episode 6)
Cast: Joel McHale, Nadia Hilker, Michelle Ang, Tim Armstrong, Brandon Jay McLaren
A team of scientists discover a new highly intelligent octopus — which learns and adapts to the environment — and it turns out some of them want to take from it for their governments. Dr. Orsen Rudd (McHale) and Channing Carp (Hilker) claim to be looking to save lives, while Ling (Ang) is investigating its physical mechanisms (artificial skin, invisibility cloaking) in order "to change what a human being can be." She wants to gene-edit traits into a human egg to create a new species.
After killing a few scientists (including one in quite a gruesome, eye-removing manner) and learning from the rest, the octopus returns to the sea … and has manipulated the gene the humans were studying for octopus DNA. "Sea life could rise out of the ocean and … put an end to the human species," Orsen realizes in horror.
It's certainly an interesting twist: humanity's attempt to exploit another species backfires and could end up being its downfall.
Dean Buscher/CBS
"Try, Try" (Episode 9)
Cast: Kylie Bunbury, Topher Grace
What appears to be a meet-cute is anything but. At first, Mark (Grace) seems attractive to Claudia (Bunbury) after he saves her from getting hit by a truck outside a museum and then pays for her admission. But the more time they spend together, the stranger their conversation and he become. He likes the same thing she does. He knows when things are going to happen. And then he reveals he's lived the day many, many times.
It's a different take on a familiar concept. Instead of being from the point of view of the person reliving the day, having it from the outsider's perspective allows for the exploration of just how dark this can get. He's been using each "try" to perfect their interactions. He timed that save from the truck. And in his mind, he knows her and put all this effort into them, so he feels she should just come around to being with him. Everything he says is for her is really for him. But she still manages to take control, even as he threatens to just start over again. All it takes is a couple punches to the face for him to not approach her — and she saves herself from the truck — and walk away in the next loop.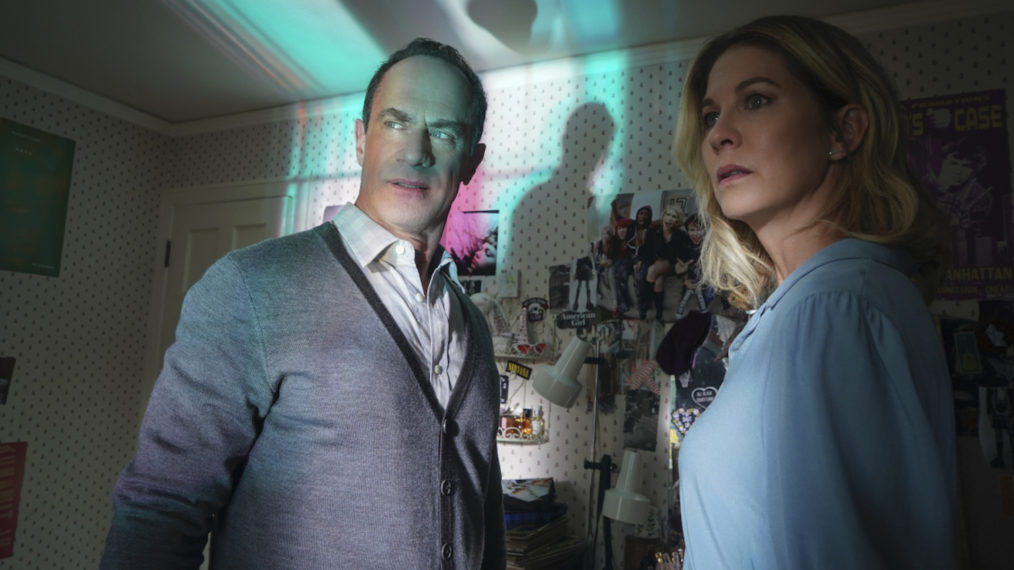 Shane Harvey/CBS
"A Human Face" (Episode 7)
Cast: Chris Meloni, Jenna Elfman, Tavi Gevinson
As Robert (Meloni) and Barbara (Elfman) are packing up their house, a strange noise draws them to the basement, where they find an alien creature. But she sees their dead daughter, Mags (Gevinson), in it, and soon, it transforms into her and even begins talking like her, sharing her memories.
"Mags" eventually admits she's a "biological pacification drone," a "machine for conquest," and she'd taken on this form as a tactic. However, she got "lost in the Mags" and "turned off her directive," she insists, and Barbara is eager to accept her. Even Robert, with his "that's how they conquer us" mentality, takes Mags' hand and the family leaves the house together … to join other families, just like them.
The twist that the aliens are the ones conquered by humanity on the latter's home turf, in addition to the emotional impact driving it all, makes for a very entertaining episode.
Katie Yu/CBS
"Among the Untrodden" (Episode 5)
Cast: Sophia Macy, Abbie Hern
Irene (Macy) is the new student at an all-girls boarding school and dubbed a "loser" by the popular crowd, until her science fair experiment reveals one of them, Madison (Hern), is psychic. After practice, Madison can read people's minds and make objects (like a key to the balcony) appear, and she's even inviting Irene along to join her and her friends. But her friends aren't so accepting and humiliate Irene for their science project. After a scream from their target lands them in the hospital, Madison accuses Irene of being the one who's psychic and the powers being hers.
This was definitely the best twist of the season. Madison's theory seems sound: Irene is always around when she uses her power and did survive a fall from the balcony. And that could have very well been it. Instead, Madison confesses how much she'd wanted a friend before she met Irene … only for the other girl to confirm they are friends and then turn to dust, just like the other objects the popular girl conjured after they'd fulfilled their purpose.
And as the episode ended, another new girl comes to the school. That double twist works so well, especially after witnessing Madison's grief over losing Irene and learning the truth and her reaction to the new girl.
If you want to read more Like this articles, you can visit our Social Media category.
if you want to watch Movies or Tv Shows go to Dizi.BuradaBiliyorum.Com for forums sites go to Forum.BuradaBiliyorum.Com