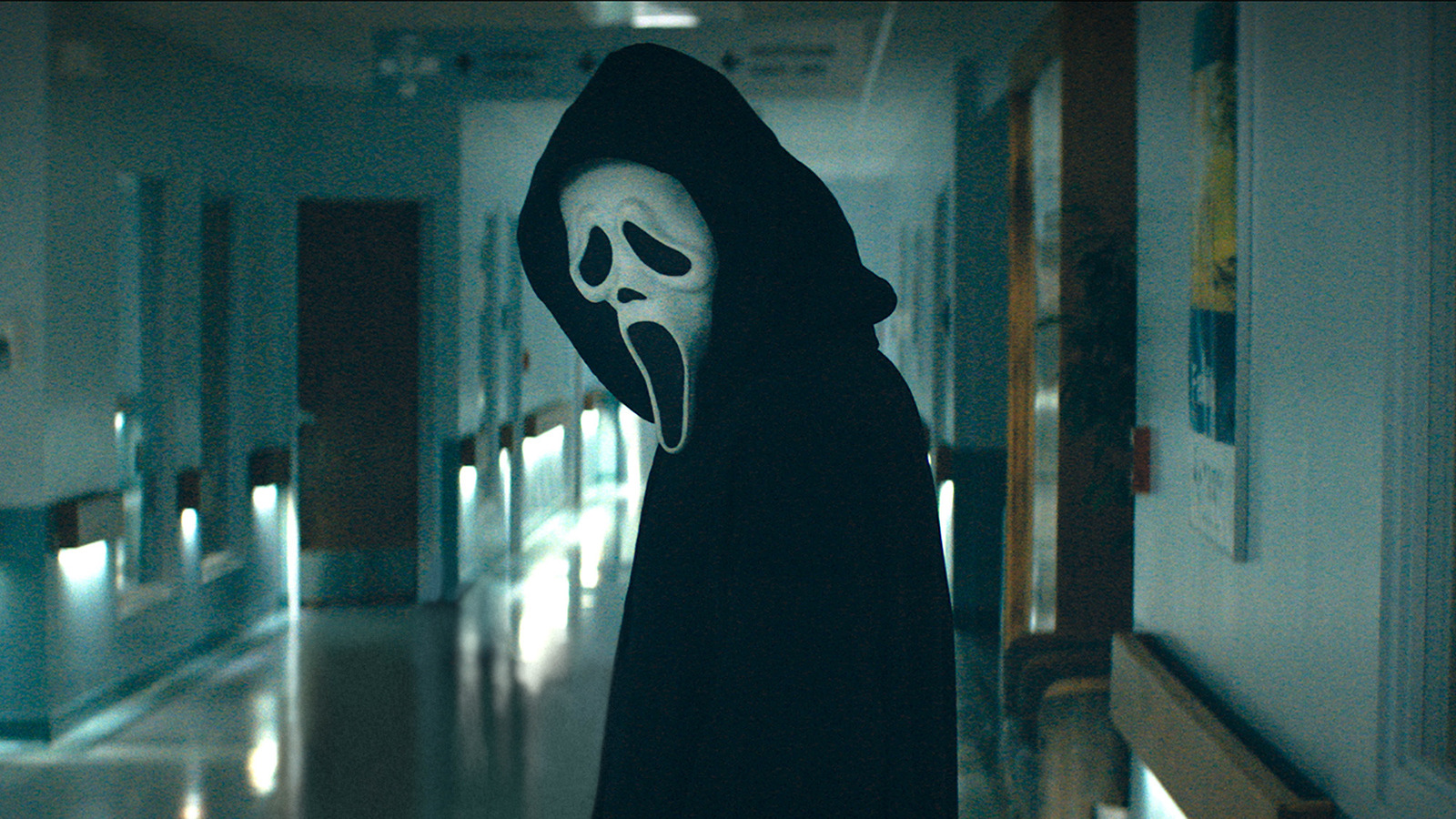 "#Somebody Has To Save This Franchise"
On a macro level, "Scream" (2022) pays off previous "Scream" movies by giving them a new coat of polish. When Drew Barrymore's Casey Becker was asked about favorite scary movies in 1996, the platinum blonde cited '70s and '80s classics and not much more recent. This is partly because "Scream" (1996) was released amid a stagnant period for slashers: just the year prior, Michael Myers' sixth film had him involved in a cult, and three years prior Jason had to go all the way to Hell to get fans to the box office. The slice 'n dice landscape needed a reset, and two came courtesy of Wes Craven with "Wes Craven's New Nightmare" and "Scream."
Nouveau-"Scream" finds purchase with the next generation the same way Kirby (Hayden Panetierre) does in "Scream 4" — by updating the film catalog, partly because the past decade has observed a boon of fantastic horror that Tara and Mindy cite zealously. Among others, "The Babadook," "Hereditary," "It Follows," and Jordan Peele all get praise, tracking with the cinema commentary that has marked every previous "Scream" film. Even Amber, as a co-killer, essays the maniac critical energy of Timothy Olyphant's film bro Mickey Altieri in "Scream 2," both weaponizing trivia knowledge and designating themselves saviors in the name of genre. 
With spittle oozing from her lips, Amber sneers, "Somebody has to save this franchise." Richie goes on to claim, "How can fandom be toxic? It's about love," after stabbing several people to death to foment a sequel. It's a stellar — and if you have stepped into the dumpster fire of comments on any franchise film on social media, relevant — commentary on both slashers and the culture surrounding them. 
The fifth entry in the Woodsboro journey is a messy one, but its messages are as appropriate for the era as Wes Craven and Kevin Williamson's were twenty-five years ago.
It's a scream, baby.
If you liked the article, do not forget to share it with your friends. Follow us on Google News too, click on the star and choose us from your favorites.
For forums sites go to Forum.BuradaBiliyorum.Com
If you want to read more Like this articles, you can visit our Social Media category.