News
#: Retiring to college at age 65? Some new 'seniors' are coming to universities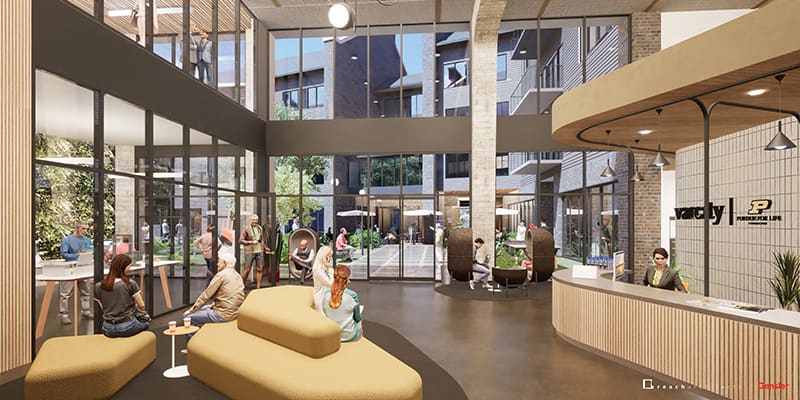 ": Retiring to college at age 65? Some new 'seniors' are coming to universities"
'Senior living is out. Intergenerational is in'

Purdue University is the latest school to look for new growth in the older population.
The West Lafayette, Ind., university, as well as two foundations, have partnered with development company McNair Living's Varcity brand to create a residential development aimed at 65- to 85-year-old alumni and community members.
The new Varcity at Purdue development, which will break ground in December or January, will be the latest university housing project to target older adults among about 75 similar communities in 30 states. The move will combine the amenities and student population of the university with the wallets and activity desires of older adults.
"Zero people in the history of humanity have a life goal to live in a senior living center. No one has a live goal to retire like that," said Les Strech, managing principal and chief operating officer at McNair Living. "Senior living is out. Intergenerational is in."
Read: Once considered on the cusp of retirement, these people are taking a 'gap year' after successful careers
Universities are grappling with declining enrollment, which dropped by almost 10% from 2012 to fall 2022, according to the National Student Clearinghouse Research Center. The schools often boast land for development and enviable programming to attract their rich roster of alumni and fans who want to return to their glory days of college. Attracting deep-pocketed alumni to live on campus can also help with fundraising. 
Older adults, meanwhile, want to be active, continue learning and interacting – making bustling college campuses a draw.
"Sitting in a rocking chair, watching the sun go up and down is a terrible retirement," said Andrew Carle, lead instructor for senior living administration at Georgetown University and president of Carle Consulting LLC. "Boomers want active. They want intellectually stimulating. They want intergenerational, highly educated." 
Read: Baby boomers, now outnumbered by millennials, see a shift in generational power
"Get rid of elderly island. Don't segregate people because they've reached a certain age," said Carle, who coined the term 'university-based retirement community' more than a decade ago. "Being around young people makes you feel younger. All these memories are there – you feel younger being back there." 
Varcity at Purdue will give all residents student IDs to access university facilities and audit lectures free of charge, as well as offer a mix of residential spaces ranging from villas and townhomes, to apartments, with ground floor amenities available to the public to rent. McNair Living declined to disclose the prices.
It's designed for interaction with students, faculty and the larger community, with space for an early childhood education center, pickleball courts, a coffee house, a wood-fire pizza restaurant and green space.
"We want to integrate it with the university and not have it on the edge of town. Isolation is a key reason people start to fade and have health problems," Strech said. "We want to build where young people and life already exists."
"In the past, people have used real estate to segregate people by age or ability. They'd hang a shingle and say 'People like this move here,'" Strech said. "We asked 'How do we bring really smart, creative people together?' You can't force friendships but you can develop and design real estate in a creative way so that friendship can form by increasing the amount of time people interact. You can create these cool moments."
The project represents the university's latest effort to grow Discovery Park District at Purdue, a 400-acre, mixed-use development at the edge of campus. 
McNair Living has about eight to 10 more university projects in its development pipeline. The Purdue project will open a wait list in 2024.
"The process is long and arduous. We don't want to rush the process," Strech said.
The Varcity at Purdue development also will serve as a teaching tool for students, including interior design students now who are working on the project, and in the future for pharmacy, nursing, speech pathology, and physical therapy students to work with residents.
"We want to get students involved so it's not just 'where the old folks live,'" Strech said. 
Carle said the Purdue project follows other good examples of well-integrated, intergenerational developments at universities such as Mirabella at ASU, which opened in 2020, and Broadview at Purchase College, which opens later this year on the campus of the State University of New York.
"This development will offer important opportunities for undergraduate and graduate students to work with, learn from and possibly even live alongside older adults," said Marion Underwood, dean of Purdue's College of Health and Human Sciences and distinguished professor of psychological sciences.
(Of course, not every interaction between college students and retirees is positive. Mirabella at ASU, for example, and some residents sued a nearby local music venue in 2021 due to noise complaints.)
While Varcity at Purdue will charge rent, different schools have other financing models, such as Broadview at Purchase, which has buy-in fees that start at $250,000 and go as high as over $1 million, as well as monthly fees.
Varsity at Purdue will also offer all the care services to age in place, Strech said. That ranges from wellness and nutrition to assisted-living and memory care-type services. It will not have skilled nursing or acute care services.
Carle said the end of life care may be something lacking in these models if residents need skilled nursing care found in a nursing home.
"The million-dollar question is care. You need skilled nursing. How do you tell them they've moved here and now they have to again move to a nursing home. If they're smart, they need to be able to show folks they have a strong referral relationship with a quality facility nearby," Carle said.
If you liked the article, do not forget to share it with your friends. Follow us on Google News too, click on the star and choose us from your favorites.
For forums sites go to Forum.BuradaBiliyorum.Com
If you want to read more News articles, you can visit our News category.