Social Media
#Horizon Zero Dawn Series Announced for Netflix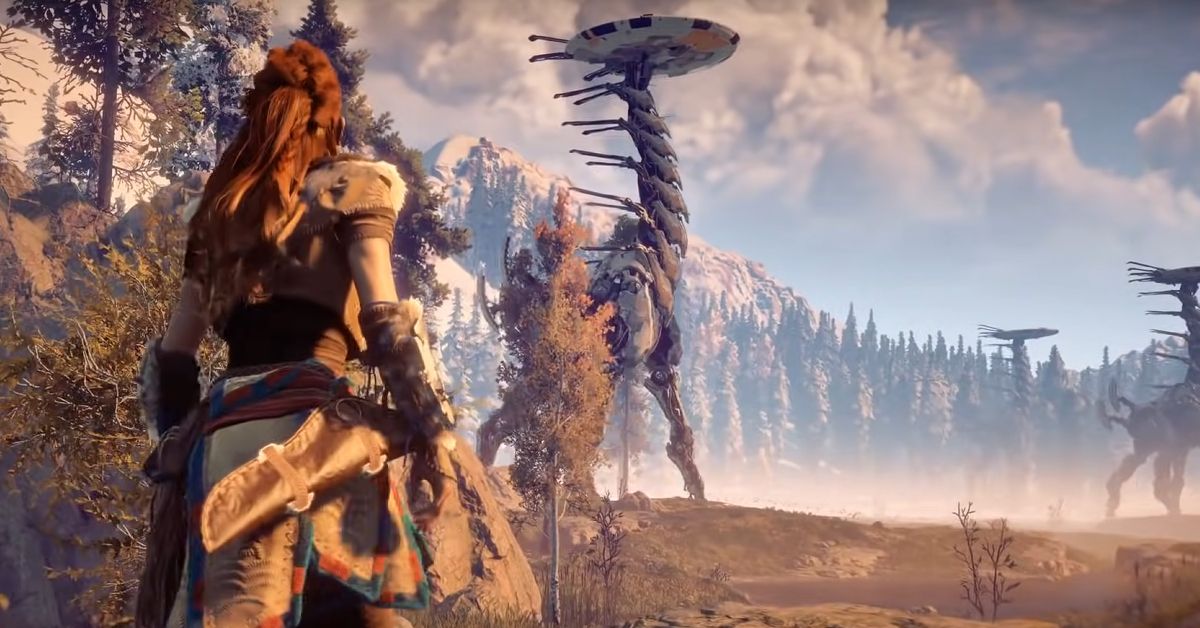 "Horizon Zero Dawn Series Announced for Netflix"
Following the success of other video game adaptations,
Horizon Zero Dawn
is next in line for the treatment. According to
Variety
, Sony Pictures Entertainment CEO Tony Vinciquerra made the big announcement in an investor briefing. Aloy's story will be brought to the Netflix streaming service!
Sony describes the game on
Playstation.com
:
In an era where Machines roam the land and mankind is no longer the dominant species, a young hunter named Aloy embarks on a journey to discover her destiny. In a lush, post-apocalyptic world where nature has reclaimed the ruins of a forgotten civilization, pockets of humanity live on in primitive hunter-gatherer tribes. Their dominion over the new wilderness has been usurped by the Machines – fearsome mechanical creatures of unknown origin.
Horizon Zero Dawn was released in 2017, initially as a Playstation 4 exclusive. The game was a rising success, praised for its lush environment and for the story arc centered around the main character Aloy. The game won Best Original Game at the Game Critics Awards, Outstanding Achievement in Videogame Writing at the Writers Guild of America Awards, and much more. The game's success led to a re-release on PC in 2020, expanding its core audience. Earlier this year, a sequel was released for Playstation 4 and Playstation 5, furthering Aloy's adventures.

Sony is Searching for New Horizons
Horizon Zero Dawn isn't the only property getting the adaptation treatment at Sony. During the initial announcement, Vinciquerra reportedly also revealed that the racing game, Gran Turismo, is also getting a show adaptation as well. However, the other game has not snagged a distributor as of yet.
Another title in the list of Sony properties getting adaptations is their monolith of a franchise, God of War. An adaptation of the game, which followed Kratos laying waste to a pantheon of enemies, was initially announced in March. At the time, the series was merely being shopped around but has since landed on Amazon for distribution.
HBO also has a slice of the Playstation pie in The Last of Us. The game follows two survivors in a zombie-like apocalypse, a hardened survivor and a young girl who has a world-changing secret. The show will star Pedro Pascal and Bella Ramsey as Joel and Ellie. The show is being developed and written by Craig Mazin (Chernobyl) and Neil Druckmann (creative director and writer of the original game). The show was set for a 2022 release, but the debut has since been pushed back. Deadline reports as of February that shooting was still underway and the release is being anticipated for 2023.


Once upon a time, videogame adaptations were seen as a lost cause. Film, television and video games are two very different forms of storytelling. So there are guaranteed snags and tangles when it comes to translating an interactive story to a screen. But as games are becoming more cinematic themselves, their stories have a chance of becoming easier to adapt as such. The Halo series, while earning a 70% Rotten Tomatoes score, has already been renewed for a second season. There are fans already willing to see their favorite characters break into new media, it's mainly down to how the production fairs. As of now, it's a little scary, but at the same time exciting, to be a fan of Playstation.
The Last of Us Set Photo Reveals New Look at Pedro Pascal as Joel
Read Next
If you liked the article, do not forget to share it with your friends. Follow us on Google News too, click on the star and choose us from your favorites.
For forums sites go to Forum.BuradaBiliyorum.Com
If you want to read more Like this articles, you can visit our Social Media category.