Game
# Xbox Game Pass adds Hi-Fi RUSH, GoldenEye 007, JoJo's Bizarre Adventure: All Star Battle R, and more in late January to early February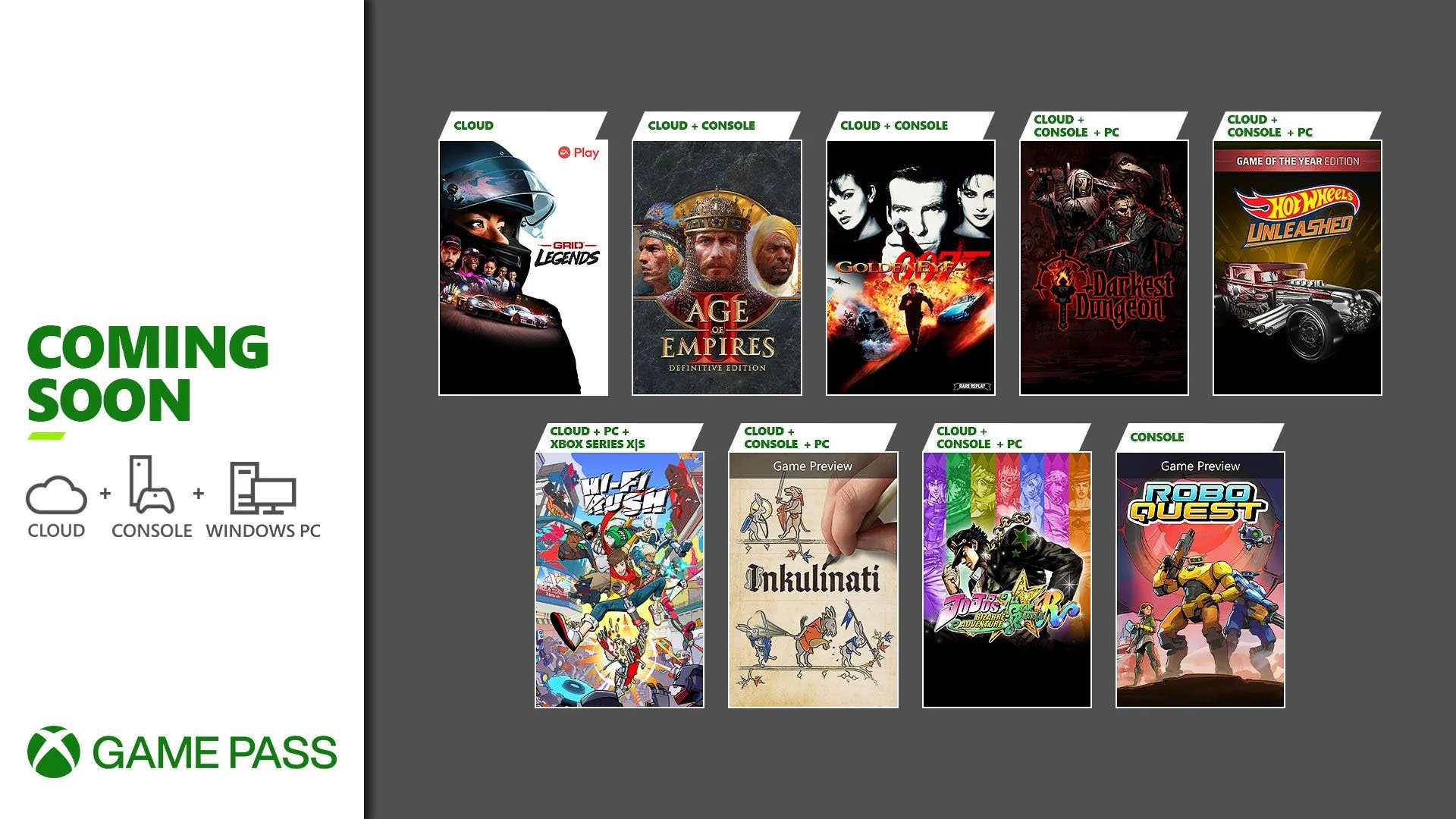 "
Xbox Game Pass adds Hi-Fi RUSH, GoldenEye 007, JoJo's Bizarre Adventure: All Star Battle R, and more in late January to early February "
Microsoft has
announced
new titles coming to Xbox Game Pass in late January to early February, which includes
Hi-Fi RUSH
,
GoldenEye 007
,
JoJo's Bizarre Adventure: All Star Battle R
, and more.
Get the details below.
■ Available Today

Hi-Fi RUSH (Cloud, PC, and Xbox Series X|S) – Feel the beat as wannabe rockstar Chai and his ragtag team fight against an evil megacorp with raucous rhythm combat! From Tango Gameworks comes Hi-Fi RUSH, an all-new action game where the world syncs to the music.

■ Coming Soon

January 27

GoldenEye 007 (Cloud and Console) – GoldenEye 007 returns to thrill players old and new! The timeless stealth shooter has been faithfully recreated for Xbox consoles, including new achievements, 4K resolution, a smoother framerate and four-player split-screen.

January 30

Roboquest (Game Preview) (Console) – Available now with PC Game Pass and coming soon to Xbox consoles! Blast your way through hordes of evil bots in procedurally generated environments in solo or two-player co-op, upgrade your build as you progress and defeat powerful bosses. Be ready to dive into the futuristic world of Roboquest and help mankind find the mysterious and long-forgotten Haven-City.

January 31

Age of Empires II: Definitive Edition (Cloud and Console) – Age of Empires II: Definitive Edition is one of the most beloved strategy games ever made and is coming soon to Xbox consoles. Enjoy a new way to play this much-loved game on console including optimizations for playing with a controller and new tutorials to get you into the fun quickly.
Inkulinati (Game Preview) (Cloud, Console, and PC) – An ink-based strategy game straight from medieval manuscripts, where a rabbit's bum can be deadlier than a dog's sword. Take your turn in Inkulinati duels filled with unexpected tactical depth (and humor!). Embark on an ever-changing journey, build your own bestiary, defeat medieval superstars and collect perks to unleash special powers.
JoJo's Bizarre Adventure: All Star Battle R (Cloud, Console, and PC) – JoJo's Bizarre Adventure: All Star Battle R brings Hirohiko Araki's masterpiece to life in fighting game form! Battle with 50 colorful characters from the world of JoJo's Bizarre Adventure, wielding Stands, Hamon, and more! See how characters who could never meet in the story interact when they come face to face! Even newcomers to the fighting game genre can have fun with one-button combos and ultimate moves.

February 2

Darkest Dungeon (Cloud, Console, and PC) – Darkest Dungeon is a challenging gothic roguelike turn-based RPG about the psychological stresses of adventuring. Recruit, train, and lead a team of flawed heroes through twisted forests, forgotten warrens, ruined crypts, and beyond. Not only do unimaginable foes await, but stress, famine, disease, and the ever-encroaching dark.
GRID Legends (Cloud) EA Play – Buckle up for high-octane racing as GRID Legends comes to Xbox Cloud Gaming with Xbox Game Pass Ultimate via EA Play. Experience edge-of-your-seat motorsport action, an immersive story mode in 'Driven to Glory,' and stunning racing variety, as recurring EA Play events keep the wheel-to-wheel action alive.

February 7

Hot Wheels Unleashed – Game of the Year Edition (Cloud, Console, and PC) – Get ready to drift, boost, jump and crash on the iconic orange tracks with the most beloved Hot Wheels cars! Hot Wheels Unleashed – Game of the Year Edition is coming to Xbox Game Pass on February 7. Let's ignite the fun!

■ Game Updates

Sea of Thieves: The Secret Wilds (available until February 2) – With a curse threatening Tasha's life, Madame Olivia urges pirates to take up the mask of Captain Briggsy and seek a cure in The Wilds—unearthing Ancient history along the way. Sea of Thieves' eleventh time-limited Adventure, 'The Secret Wilds,' runs until February 2.

■ Xbox Game Pass Ultimate Perks

Available Now

The Elder Scrolls Online: Ancient Dragon Hunter Armor – Enhance your The Elder Scrolls Online adventure with the Ancient Dragon Hunter Armor and more from the Dragon Slayer Bundle #1. Claim it today and join over 20 million players in the award-winning RPG.
Black Desert: Special Gift Bundle – Tis the Season to spend your winter with Woosa, Black Desert's 25th new class! We've prepared plenty of content and a gift to celebrate the launch of the new class. Play now to start your adventure!
Vigor: Norwegian Woodchuck Pack – Put your axe down and take up your weapons! Chopping down your enemies will be as easy and satisfying as splitting a log in half! Enjoy the free exclusive outfit, powerful weapons, and open the Special Issue Crate. Show others who rules the Outlands!

■ Leaving January 31

Be sure to set some time aside for the following games leaving soon! Remember you can use your membership discount to save up to 20 percent before they leave the Game Pass library.

Donut County (Cloud, Console, and PC)
Taiko no Tatsujin: The Drum Master (Console and PC)
Telling Lies (Cloud, Console, and PC)
Worms WMD (Cloud, Console, and PC)
If you liked the article, do not forget to share it with your friends. Follow us on Google News too, click on the star and choose us from your favorites.
For forums sites go to Forum.BuradaBiliyorum.Com
If you want to read more News articles, you can visit our Game category.