Social Media
#Will That Slow-Burn Romance Finally Ignite & More 'Chicago Fire' Season 9 Qs
"Will That Slow-Burn Romance Finally Ignite & More 'Chicago Fire' Season 9 Qs"
Adrian S. Burrows Sr./NBC
Chicago Fire
may have ended its eighth season earlier than expected, but the 20 episodes we did get gave us plenty to speculate about while we wait for the NBC drama to return.
As always, the first responders' personal and professional relationships are at the center of the loose threads for what's to come. Will the slow burn romance between paramedic Sylvie Brett (Kara Killmer) and firefighter Matt Casey (Jesse Spencer) finally heat up? What will Firehouse 51's new addition after a series regular exit mean for the remaining characters?
Scroll down to see what we're most curious about for 51's heroes (past and present).
Chicago Fire, Season 9, TBA, NBC
Adrian Burrows/NBC
Will Brett and Casey get together?
It's been one step forward, two steps back for Brett and Casey for a couple of years. While there are still obstacles in their way—his ex-wife, paramedic-turned-firefighter Gabby Dawson (Monica Raymund), is her best friend, to name one—something's gotta give. The two continue to grow closer and closer, but with the series renewed for three more seasons, will another year pass without so much as a kiss?
Adrian Burrows/NBC
Will Dawson return?
Raymund's character left Chicago and 51 behind for Puerto Rico two years ago, but when she visited in Season 8, she and Casey fell into bed together. Though she left again, the door is open for another episode, and we're always up to see Dawson, no matter what the circumstances. Sure, she and Casey can officially reunite and she could be a foil for him and Brett's potential relationship, but we'd also love to see her be there for Brett. The paramedic has been through a lot lately, including meeting and losing her birth mother, and Dawson's last appearance was all about Casey.
Adrian S. Burrows Sr./NBC
How will the new paramedic fit in?
There have been quite a few people to ride in Ambulance 61, and some have fit in better than others at the firehouse. (There will never been another set of partners like Dawson and Lauren German's Shay, who died on the job.) Now there will be someone new coming in again, as Annie Ilonzeh's exit all but confirms that her character, Emily Foster, is going to medical school. (Her application status had been up in the air at the end of Season 8.)
Who will her replacement be? Will we meet the newest member of 51 in the premiere, or might we see some floaters (perhaps some familiar faces?) first? And how will the new addition affect everyone at 51?
Adrian S. Burrows Sr./NBC
What will the success of Kidd's program mean for her future?
In Season 8, firefighter Stella Kidd (Miranda Rae Mayo) started an after-school program for high school girls called "Girls on Fire." It's clearly a success for her and the CFD, and while she struggled to balance work at 51 and the Fire Academy, perhaps this program will lead to another step forward for her career-wise.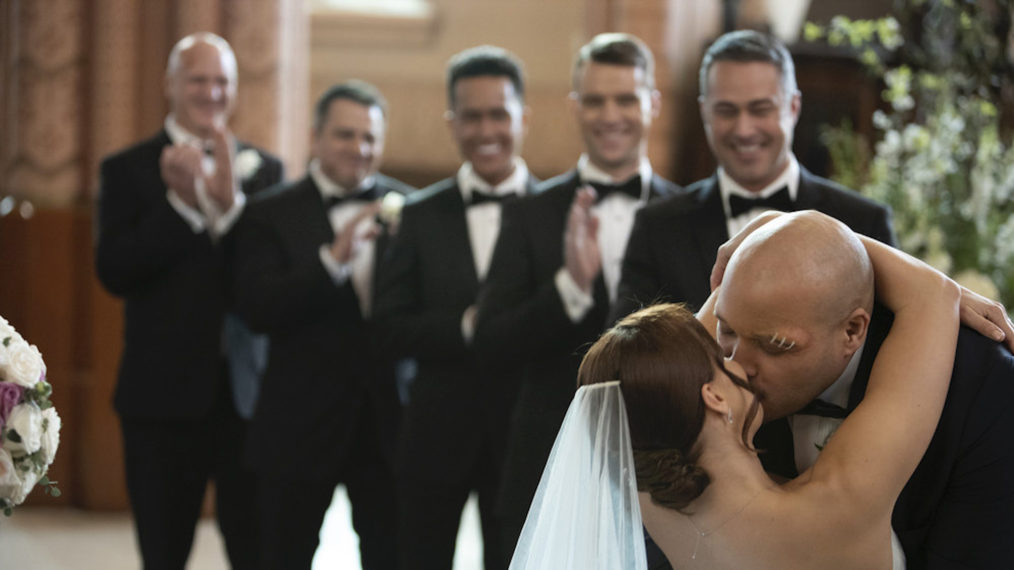 Adrian Burrows/NBC
Will there be another Fire wedding?
We've already seen Casey and Dawson, Chief Boden (Eamonn Walker) and Donna (Melissa Ponzio), firefighter Randy "Mouch" McHolland (Christian Stolte) and P.D.'s Desk Sergeant Trudy Platt (Amy Morton), and firefighter Joe Cruz (Joe Minoso) and Chloe Allen (Kristen Gutoskie) get married. If there is another ceremony in Season 9, the only possibility right now is firefighters Kelly Severide (Taylor Kinney) and Kidd. They are going strong, and anything is possible.
Adrian S. Burrows Sr./NBC
What will the next threat to 51 be?
Outside forces have tried (and failed) to split up the firehouse. There have been temporary transfers to other houses and even the Office of Fire Investigation. But 51 has always managed to come out on top and stand together. With at least three more seasons, you can count on similar threats again. But, as always, we expect one or two twists along the way.
If you want to read more Like this articles, you can visit our Social Media category.
if you want to watch Movies or Tv Shows go to Dizi.BuradaBiliyorum.Com for forums sites go to Forum.BuradaBiliyorum.Com