Social Media
#Which 'Chicago Med' Couples Have the Best Chance of Lasting Through Season 6? (POLL)
"#Which 'Chicago Med' Couples Have the Best Chance of Lasting Through Season 6? (POLL)"
Elizabeth Sisson/NBC;
Chicago Med
has at least three more seasons to explore the personal and professional lives of its hospital staff, which means that relationship statuses are likely to change several times for at least most of its couples.
Heading into the sixth season, there's only one couple looking stable after a rocky year medically, one on the road to reconciliation after their relationship hit a couple rough patches, and a few that could go either way. Will life continue to look up for charge nurse Maggie Lockwood (Marlyne Barrett)? Can Dr. Ethan Choi (Brian Tee) and nurse April Sexton (Yaya DaCosta) put their past behind them? Are Drs. Natalie Manning (Torrey DeVitto) and Will Halstead's (Nick Gehlfuss) new love interests — even just potential, in one case — doomed because of their history?
Vote for which couple you think has the best chance of ending Season 6 together in the poll below and then scroll down to see our thoughts.
Chicago Med, Season 6, TBA, NBC
Elizabeth Sisson/NBC
Will and Hannah
If these two make it, it will certainly be a shock. Will was there for Dr. Hannah Asher (Jessy Schram) during her recovery, but he was unsure if he could trust her when she brought her ex-boyfriend, also an addict, into the hospital in the finale. The pieces are in place for their relationship to end soon into Season 6, simply because they got together too soon into her recovery. When you factor in Will's history with Natalie, there's pretty much a guarantee that this relationship won't last.
Likelihood of ending Season 6 together: 10%
Elizabeth Sisson/NBC
Crockett and Natalie
Though they grew closer in Season 5, especially near the end of it, Dr. Crockett Marcel (Dominic Rains) seemed to become distant after hearing she learned about the daughter he lost to leukemia. (It's not something he wants people to know because they'll look at him differently.) But their potential relationship is something that Med needs to explore in Season 6; it's only a question of whether or not it will last. Her history with Will is certainly a factor that needs to be taken into consideration.
Likelihood of ending Season 6 together: 50%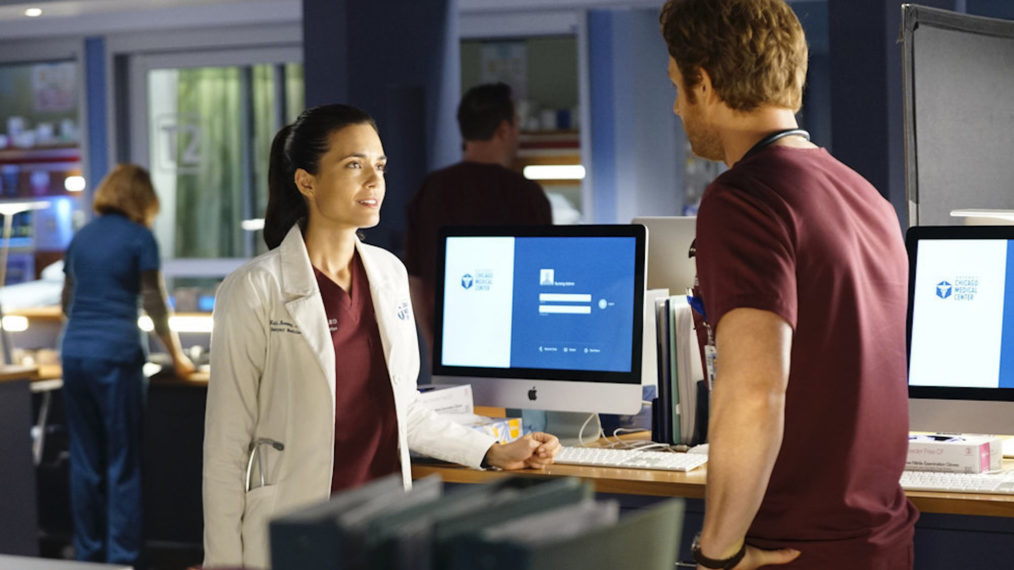 Elizabeth Sisson/NBC
Natalie and Will
They may be exes going into Season 6, and Will may have realized they're not good for each other, but chances are these two will find their way back to one another at some point next season. But with three more seasons already ordered of the NBC medical drama, there may be a question of where they stand if something happens between them in the finale.
Likelihood of ending Season 6 together: 60%
Elizabeth Sisson/NBC
Ethan and April
The doctor and the nurse were seemingly on their way to happily ever after when they hit a couple snags: first when it comes to having kids and then when April kissed Crockett. They did appear to be nearing a reconciliation in the finale, as she ran to the site of a convenience store robbery after learning Ethan was in the middle of it. Chances are Season 6 will see them back together at some point, and it's unlikely that it will end with them apart after this past one did.
Likelihood of ending Season 6 together: 90%
Elizabeth Sisson/NBC
Maggie and Ben
The two met while receiving chemo for cancer, and not only did they both survive the season, they got married! They're also expanding their family, having decided to be foster parents to Auggie (Christopher Farrar), Ben Campbell's (Charles Malik Whitfield) student, after a couple realized they couldn't handle his medical care. We expect Season 6 to be a happy one for all three, but you never know what could happen.
Likelihood of ending Season 6 together: 95%
If you want to read more Like this articles, you can visit our Social Media category.
if you want to watch Movies or Tv Shows go to Dizi.BuradaBiliyorum.Com for forums sites go to Forum.BuradaBiliyorum.Com