Social Media
#Turn your game controller into a wireless vibrator with iVIBRATE app
The history of sex and video games has led to this.
"#Turn your game controller into a wireless vibrator with iVIBRATE app"
Theoretically, you could go out and buy a Hitachi Magic Wand right now, but why would you when there's iVIBRATE? This program suite lets users turn their gaming controllers into their very own wireless vibrator, complete with full control over vibration settings and patterns.
Kink Master Studios launched iVIBRATE—Controller Edition in February 2020 as a simple, free app that lets users control the vibration settings on their Sony DualShock 4 or Microsoft Xbox controllers. Now, iVIBRATE has received enough support that Kink Master Studios has launched iVIBRATE Ultimate Edition, a $4.99 premium version with 10 vibration strengths, 20 different vibration patterns, and three different vibration modes. Ten gamepads can run at once with iVIBRATE Ultimate Edition, and players can even use iVIBRATE in "one-handed mode."
A wide assortment of controllers can be turned into wireless vibrators, including various Logitech PC gamepads, Valve's Steam Controller, and even a Nintendo GameCube controller. Multiple joysticks also work, opening the door to some horny Microsoft Flight Simulator flight sessions.
The app does exactly what it advertises. This reporter downloaded iVIBRATE Ultimate Edition's Linux teaser demo and successfully used it with her Sony DualShock 4 controller on her Linux Mint distro.
Kink Master Studios initially launched iVIBRATE's ultimate edition in late July, although this reporter first discovered the app suite after the developer retired the free and pro versions of iVIBRATE on Sept. 19. By creating a separate storefront for both retired products, the pro and free versions ironically rose in visibility on itch.io's "New & Popular NSFW Games" section. The pro version, which is available for PC and Mac for $1.99, includes 20 vibration patterns and gamepad support for two controllers.
The developer behind Kink Master Studios told the Daily Dot via Twitter message that the ultimate edition of iVIBRATE was "really built from the ground up" and was funded using profits from the pro version.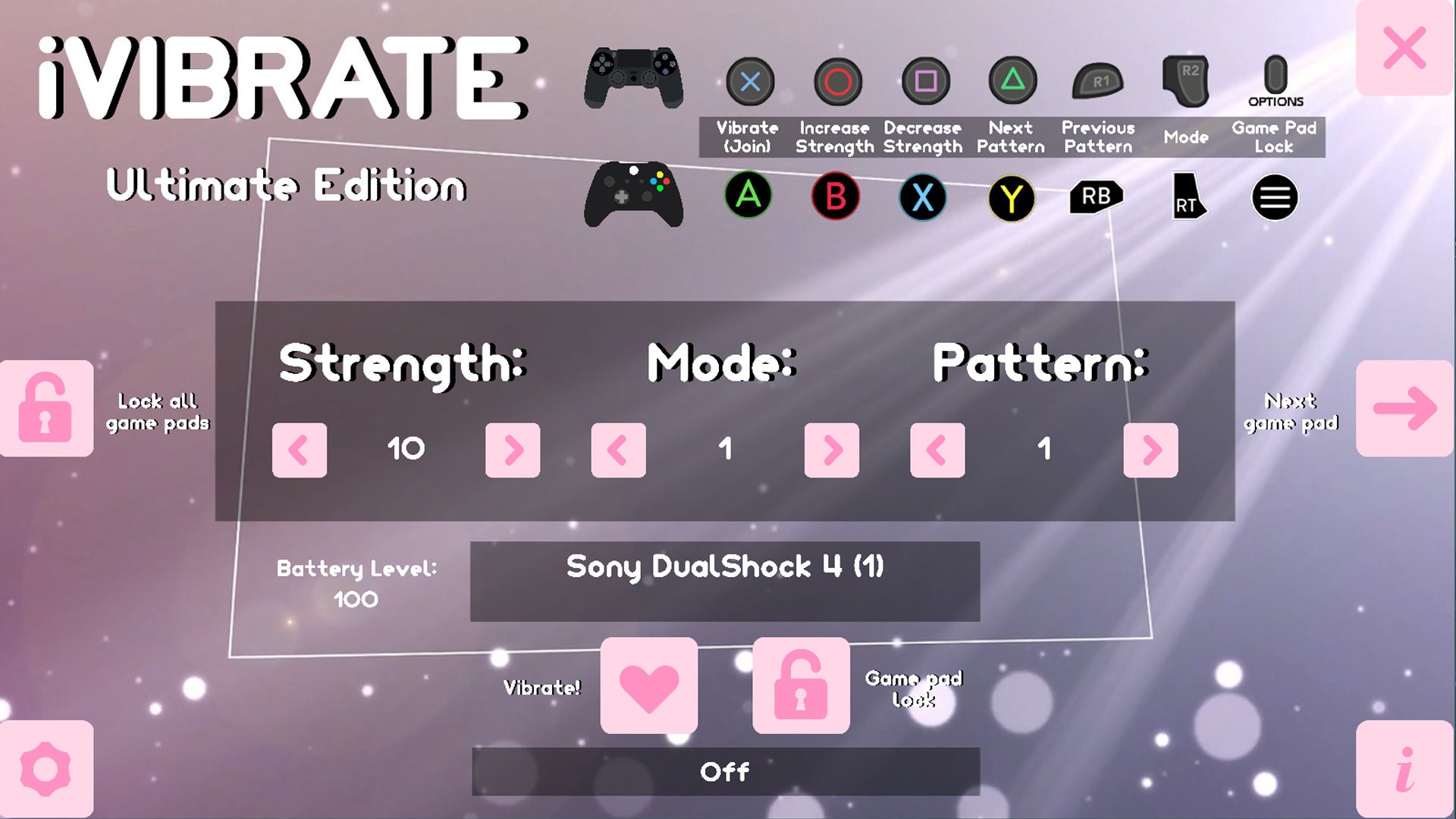 Kink Master Studios was surprised that nothing like the iVIBRATE existed on a mobile platform for an adult audience.
"The idea of iVIBRATE came from trying to brainstorm different adult orientated ideas that I hadn't seen before," the developer told the Daily Dot. "It's the same sort of inspiration I have had behind the other apps I have created as well."
For some gamers, sexual stimulation from a controller's rumble feature may seem particularly shocking. But there's a long history behind the practice. In 2002, USC Interactive Media and Games professor Miyuki Jane Pinckard, then a games critic living in Japan, mentioned the practice among female gamers in a viral article about using the Rez Trance Vibrator. The practice turned heads, but it never died down in popularity. One of the Xbox 360 community marketplace's most popular apps was "A Perfect Massage," a program that turned Xbox controllers into "a vibrating massager." Similar apps commonly made their way onto the Xbox's marketplace and earned dividends for their creators; Kotaku editor-in-chief Stephen Totilo reported on the phenomenon in 2009 and revealed how one college senior "pocketed $60,000 and counting" from just four hours developing "an Xbox massage program."
The Daily Dot spoke to numerous video game fans who have, at one point or another, used a game controller's rumble features for sexual pleasure. While playing 2002 fighting game Soulcalibur 2, one anonymous gamer became so turned on by female fighters flashing their panties that they "would let a CPU beat [them] up while having the controller sitting in my lap." Years later in college, they were playing Gearbox Software's first-person shooter Borderlands 2 when they acquired the Good Touch, a weapon that "just makes your controller constantly vibrate."
"I was like oh-my-god yeah. Vibration is all the same, it doesn't have to be a wand," they said. "I feel a little bad cause [Gearbox was] doing a bit but I was the one girl taking it seriously haha."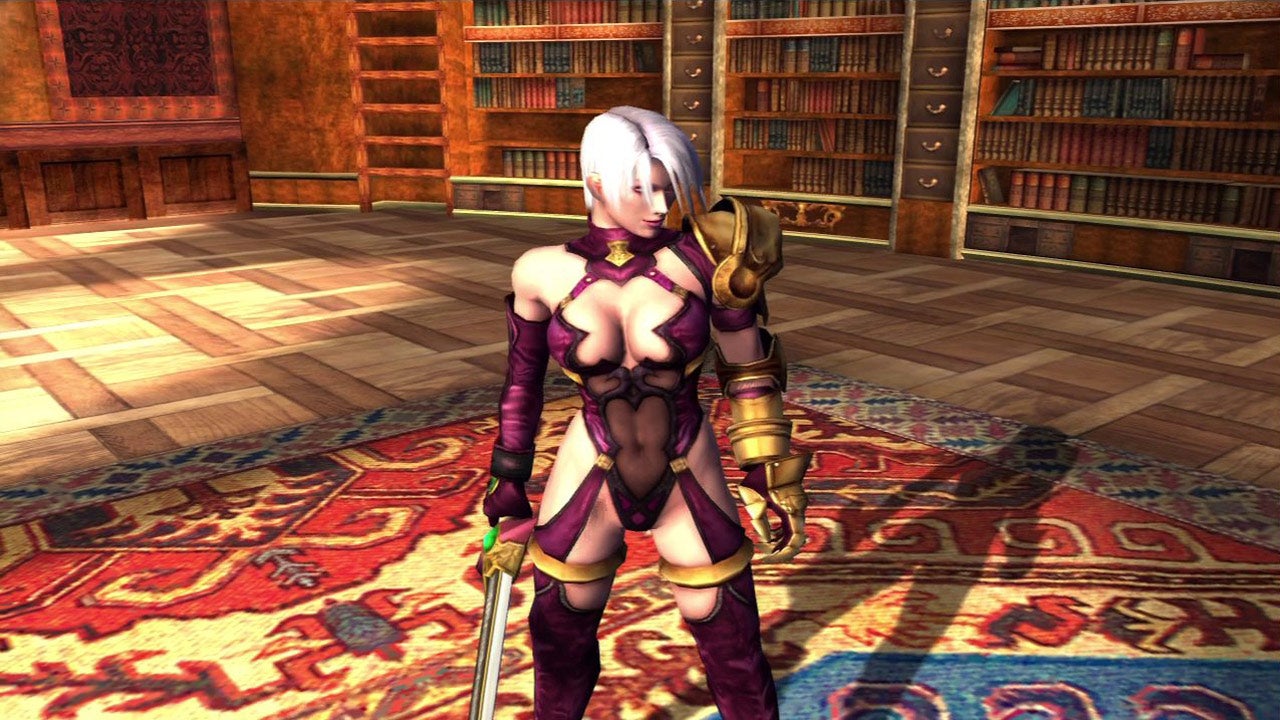 Claribel, a queer and trans sex worker, had a similar story. They told the Daily Dot how fighting games' controller vibration features could be used to turn their gamepad into a sex toy during a game over cutscene in a Dragon Ball Z fighting game. Other genres soon followed.
"There was always a cutscene of the loser getting blasted that made the PS2 controller vibrate and so once I realized that I started holding the controller against my bits," Clarbiel said. "Then I started seeing games that had 'find-buried-item' missions and levels that'd make the controller vibrate when you go closer to the thing you were looking for. I figured out I could basically use that like a variable speed wand. And then during the Xbox 360 generations, Quick-Time-Events got big for a while and a lot of them would make the controller vibrate if you failed. The golden egg for that was finding an autosave that happens right as the QTE starts."
Years before discreet, wireless vibrators were regularly available to purchase for cheap over the internet, controllers became the only sex toys that teens and young adults could use to experiment with their bodies. And some gamers went to great lengths to figure them out. Fox, who is trans masculine and kink-positive, could not access a vibrator in their late teens while living with their parents. So instead, they purchased the 2004 role-playing game Digimon Rumble Arena 2 and played through the game until they earned the ability to replay in-game cutscenes with vibration.
"It was incredibly convoluted but as a determined young adult I was willing to put in the effort," Fox told the Daily Dot. "I spent probably close to 100 hours in a [role-playing game] I don't even remember the name of so I could replay a cutscene with near-continuous vibration because it was more consistent than Digimon Rumble Arena 2."
While many of these gamers have access to sex toys as adults, they still expressed interest in using iVIBRATE in one shape or form. And the app certainly has plenty of uses during COVID-19. For instance, young adults stuck in quarantine with their families can use apps like iVIBRATE to create their own makeshift wireless vibrators discreetly. And for gamers living in rural areas, iVIBRATE serves as a handy back-up when the nearest sex toy shop is a little too far away.
"I have the means to get regular toys but if a toy has died (like my favorite wand recently has) or I'm playing a game and don't want to have to get up, I can definitely see myself using this," Claribel said. "I think it'll also be a great resource for anyone who doesn't have easy access to regular toys. I'm originally from a rural town and the nearest adult shop was a 45 minute drive so being able to save the gas and just use a controller would have been a dream."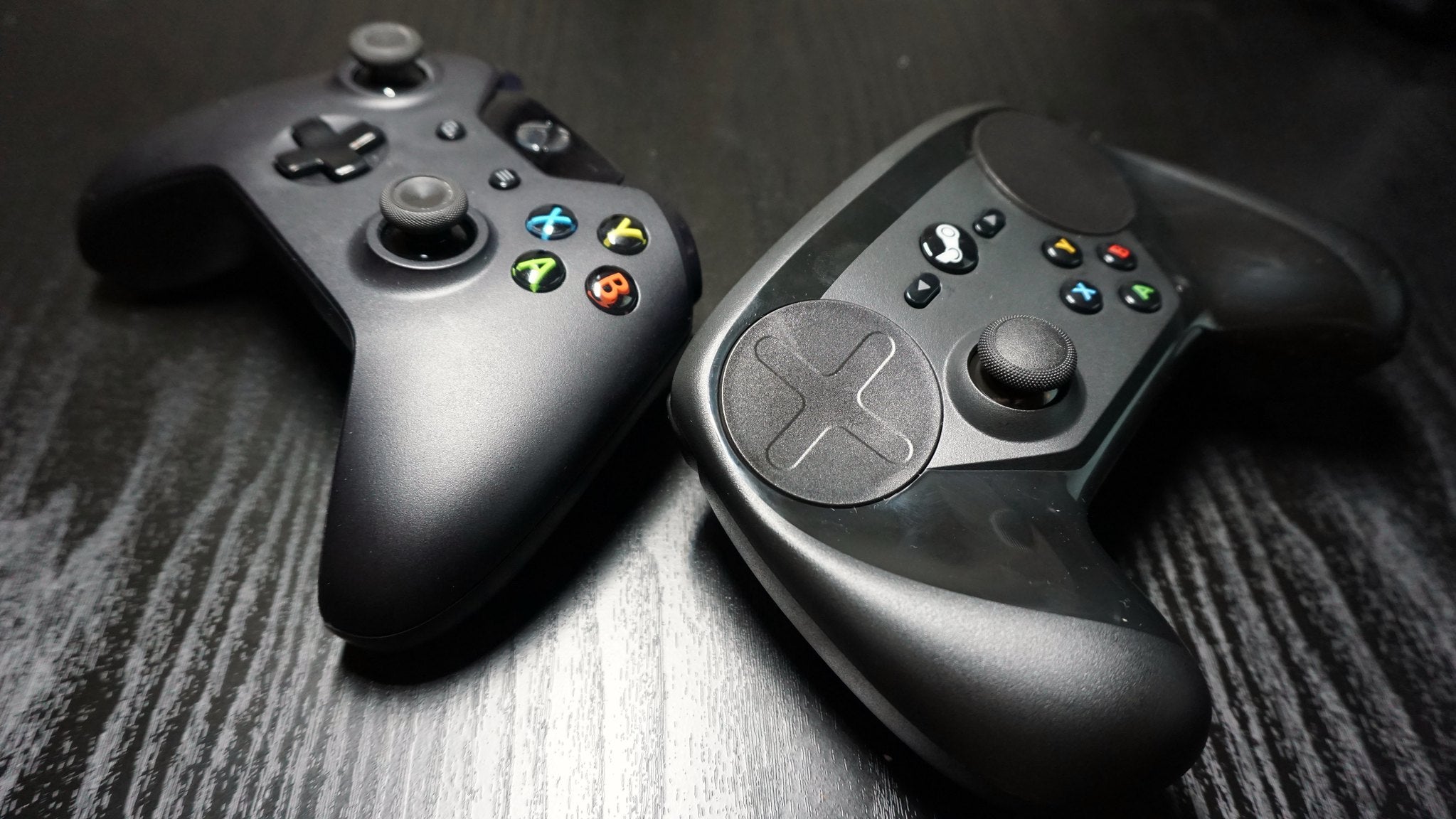 Others simply find the program exciting for its own sake. Reporter Elizabeth King once "briefly" used a controller's vibration feature in their later teens on a whim, as "a vibrating thing just feels like you should put it on yourself." Now as an adult, they would "absolutely" try iVIBRATE. That's partly because video games have an erotic appeal to them, whether through "gamer porn," or via sexual premises where one partner gives another bodily pleasure while doing something else (such as playing video games).
"I love incorporating all kinds of play in sex. Sex is also funny sometimes, and in general it's just fun," King told the Daily Dot. "I already use toys like vibes and plugs and all kinds of other props (even picking out underwear ahead of sex is like costuming of a kind), plus: I like video games!"
Kink Master Studios told the Daily Dot that there's a "kinkiness factor" in using a device like a controller that was never intended for erotic use.
"I think the biggest appeal of using a controller for sexual stimulation is that it's something a lot of people will have lying around the house; ease of use and accessibility is a big factor," the developer said.
To be clear, masturbating with a game controller may not be as enjoyable as using a dedicated sex toy. And using a game controller to masturbate in a multiplayer game—especially ones where your audio may be transmitted to other players—raises numerous concerns about sexual consent with teledildonics. But there's a long history behind using controllers to masturbate in single-player games, and iVIBRATE's wireless vibrator feature is just the latest in a legacy that's as underreported as it is exciting.
"Games are another fantasy and they appeal to our imagination. Suspension of disbelief, etc. Especially for those of us who are into kink and BDSM, that's already part and parcel of our approach to sex play," King said. "But also games appeal to everyone, basically. As do sex toys. Combining the two for consenting adults seems like a no-brainer and I almost can't believe this technology didn't exist sooner. Especially because there's even stereotypes about sexually repressed, horny gamers. Like come on."
---
More from Ana Valens on the BuradaBiliyorum.Com
OnlyFans dominated 2020. What does that mean for sex workers?
Welcome to the 'omegaverse,' the kinky erotica genre reimagining bodies
Steam criticized after pulling LGBTQ+ and female protagonist categories
Discord is the latest battleground for moral panic about adult content
There's a better way to be on social media in the pandemic
by Ana Valens
For forums sites go to Forum.BuradaBiliyorum.Com
If you want to read more Like this articles, you can visit our Social Media category.