Social Media
#Toddler accidentally sends mom's nude to her entire contact list on Snapchat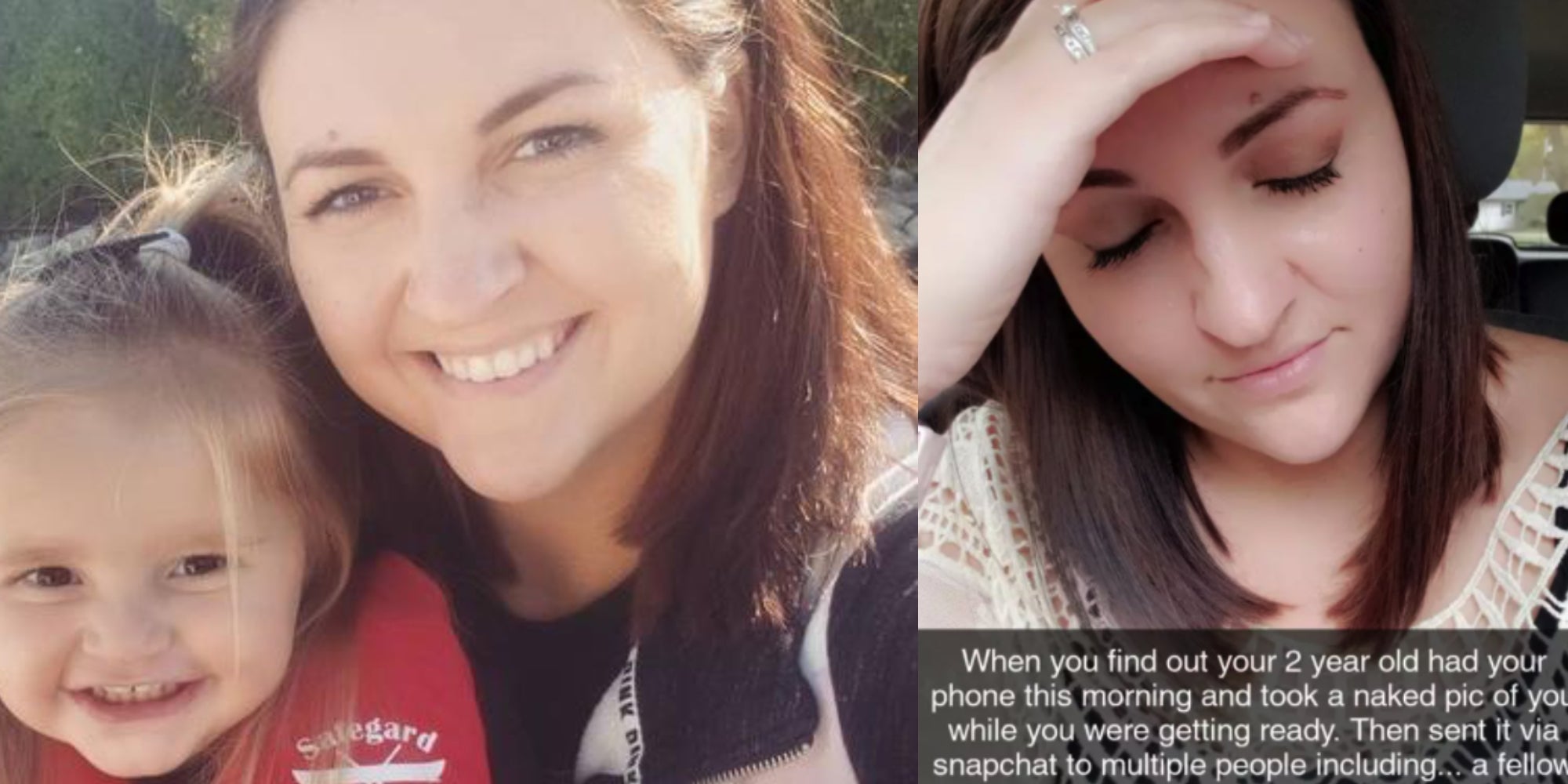 "#Toddler accidentally sends mom's nude to her entire contact list on Snapchat
"
'I was mortified.'
An Ohio mom claims her 2-year-old daughter accidentally sent her nudes to her entire Snapchat contact list. 
According to the International Business Times, the mom, Emily Schmitt, was drying her hair nude when her toddler, who was playing with her phone, took photos of her mom's butt and sent it to multiple Snapchat contacts. 
It wasn't until Schmitt received a text from a coworker saying, "Thanks for the nude" that she realized her daughter's actions. 
"I was mortified," Schmitt said. "I literally think I died for a minute then came back to life so I could tell people what happened. "It's so funny—this child of mine is wild. We just say she's feral—she cannot be tamed."
Schmitt said her daughter, Carsyn, sent the photo to at least 15 people—including former university friends, a work acquaintance, former clients, and coworkers from the real estate brokerage she's currently employed at. 
"It's people I don't talk to all the time," Schmitt said. "I was like, 'Oh, there's the guy I went to college with who had a crush on me' and, 'Oh, there's a past client of mine.'" 
Since the photos were sent via Snapchat, the messages were immediately deleted after the recipients opened them. No one who received the images took a screenshot. 
After realizing what her daughter did, Schmitt apologized to everyone who received an image. She also shared her story on social media. 
"When you find out your 2 year old had your phone this morning and took a naked pic of you while you were getting ready," Schmitt wrote. "Then sent it via snapchat to multiple people including…a fellow agent. A past client. A guy from college. An old coworker."
"I am SO SORRY if you got the pic," she continued.
---
Today's top stories
'Christian Girl Autumn' influencer donates to trans meme creator who made her famous
Mom interrupts Google Meet class after teacher's remarks about George Floyd
Woman twerking for Salt Bae​ gets berated by abusive 'boyfriend' in viral TikTok
Sign up to receive the Daily Dot's Internet Insider newsletter for urgent news from the frontline of online.
For forums sites go to Forum.BuradaBiliyorum.Com
If you want to read more Like this articles, you can visit our Social Media category.