Technology
#This startup wants you to test its latest flying machine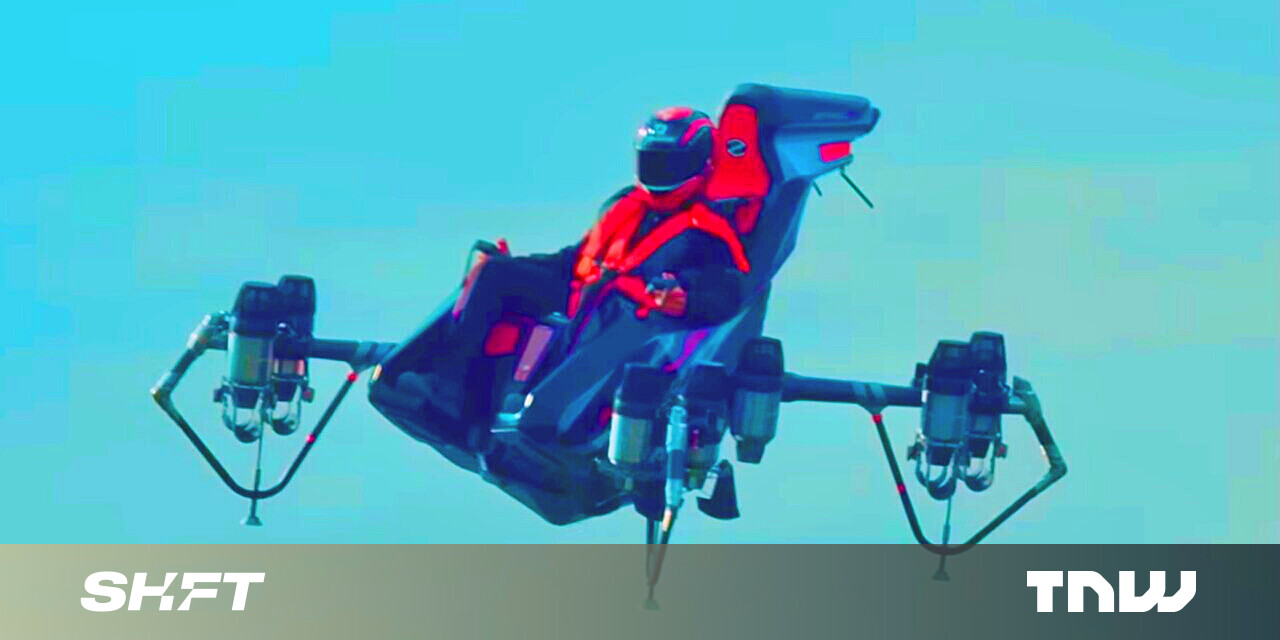 "This startup wants you to test its latest flying machine"
In an effort to bring personal flying machines to the skies, French inventor and former jet-ski champion Franky Zapata is taking invites for people to try out his latest flying machine – the
JetRacer
. 
Meet the JetRacer 


The JetRacer is a vertical take-off and landing (VTOL) aircraft powered by ten kerosene-fueled micro-turbo-jet engines. 
Controlled by two joysticks, it's capable of a high degree of maneuverability, with a video of flipping and turning the aircraft at speed while flying over water.
Not Zapata's first rodeo
Zapata's had a long history with flying machines. In August 2019, he made history by crossing the English Channel – roughly 35 kilometers (22 miles) wide – on a hoverboard designed by his self-named company, Zapata.
What does the JetRacer mean for the future of mobility? 
While there may be use case applications in situations like military search and rescue but, much like the promises of the Xturismo hoverbike or the Omni Hoverboard, this is most likely to be utilized for hobbyists only on private land or at commercially-approved events. 
There's simply no legal approval to fly these across cities to avoid congested roads. 
Instead, these aircraft get rolled out at fancy events like the Singapore F1, no doubt for a spot of fundraising. And with no idea of the price, it'll probably be just another rich person's plaything. 
To be honest, I'd be more excited if it was using a revolutionary battery or patented super fast charger. This would advance the aviation industriy's capabilities in person flying machines. Instead, JetRacer's kerosene power underwhelmed me.
Even a plan for sky racing would be pretty cool. 
However, the aircraft has advanced somewhat from the earlier standing hoverboard with double the turbo engines and a seat. 
Capable of 250kmph (155mph) it is faster than the hoverboard's 177 kmph (110 mph). But Zapata is yet to increase its speed beyond 130kmph (80mph). 
But for all my skepticism of its utility, the JetRacer may attract the imagination of the masses. It shows not only future possibilities but the here and now. So many times, new mobility is only visible through drawings and CGI videos, but this is something that you can actually see and experience. . 
Want to try it out for yourself? 
Sure you do! The company invites people to "become the pioneers of the mobility of the future." One hundred volunteers will be selected for simulation trials and training. Then, a final 25 are to be sent to the US, where the aircraft does not require an ultralight aviation license. Sign up to be part of the future! 
If you liked the article, do not forget to share it with your friends. Follow us on Google News too, click on the star and choose us from your favorites.
For forums sites go to Forum.BuradaBiliyorum.Com
If you want to read more like this article, you can visit our Technology category.