"#The 20 best rock songs right now"
Mayl's list includes new music from Sharon Van Etten + Angel Olsen, TURNSTILE, Mdou Moctar, Willow and more.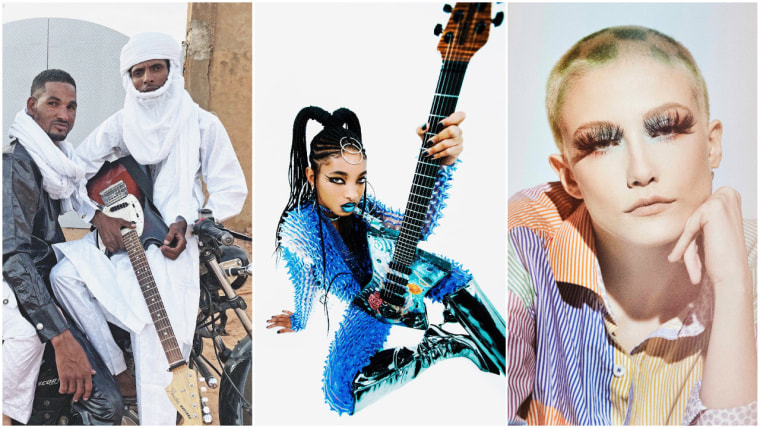 (L-R) Mdou Moctar, Willow, Chloe Moriondo.

WH Moustapha/Jimmy Fontaine
Every month The FADER brings you the best rock songs in the world (in no particular order).
Sharon Van Etten + Angel Olsen, "Like I Used To"

A collaboration so obvious it's amazing it hasn't happened before now. "Like I Used To" marries two of indie rock's greatest voices of the past decade together in triumphant harmony, with both Van Etten and Olsen sounding at once imperious and yet brittle at the same time. Can we get a whole album of this stuff?
Willow, "t r a n s p a r e n t s o u l"

At some point we'll have to talk about Travis Barker's omnipresence in 2021 (are there two of him?) but Willow's "t r a n s p a r e n t s o u l" is all about introducing us to her emo era. Letting rip over power chords and moody atmospherics suits Willow and show that eleven (?!) years on she still knows how to make music you can whip your hair to.
TURNSTILE, "MYSTERY"

Great news for people who love to dropkick their friends in a mosh pit: TURNSTILE are back with new music. "MYSTERY" sounds like a band from 2055 reviving hair metal to entertain the robots, mixing space-age synths with the kind of chorus that requires a wind machine and a clifftop to do it justice. Welcome back!
Jelani Aryeh, "From These Heights"

Aryeh finds himself cut adrift from certainty and a sense of safety on "From These Heights," the latest song from the promising indie artist. Written in the wake of George Floyd's death, the song will appear on Aryeh's debut I've Got Some Living to Do, due this summer.
Storefront Church, "Us Against Us"

Lukas Franks' new album As We Pass oscillates between wiry post-punk and piano balladry, with "Us Against Us" operating firmly in the latter territory. A deeply melancholy song about red lights and impossible situations, "Us Against Us" is the sound of spiraling into the richest sounding of abysses.
Mdou Moctar, NPR Tiny Desk Concert

OK, not a song per se but one big shout out for Mdou Moctar's excellent new album Afrique Victime. Mahamadou Souleymane, a.k.a. Mdou Moctar, has crafted what is sure to be one of the year's finest records and this live session goes somewhat toward capturing the inventiveness and intensity of the record. Ending with the album's explosive title track, Souleymane lets rip on a guitar solo that you simply never want to end.
Chloe Moriondo, "Bodybag"

Olivia Rodrigo might be hogging the limelight with her angsty take on pop-punk, but don't sleep on Chloe Moriondo. Her new album Blood Bunny is spiky and whip smart, filled with songs like "Bodybag" that will comfort those going through the trials of adolescence and remind those who have moved past that stage just how fortunate they are.
Wednesday, "Handsome Man"

Speaking about the lead single of her band's woozily romantic new song, the first to be taken from upcoming album Twin Plagues (due August 13), vocalist Karly Hartzman revealed a tendency for the absurd. "Believing things happen in a random fashion is the only comfort in a world where bad things are always happening on purpose," she said in a statement. Make a good thing happen on purpose and listen to Wednesday today.
The Goon Sax, "In The Stone"

Taken from the Australian band's upcoming album Mirror II (out July 9 via Matador), "In The Stone" is perhaps The Goon Sax's poppiest work to date. Earworm melodies sit over the top of inde-pop guitars and Louis Forster's almost spoken word vocals to set the scene for a loving relationship fading as both parties change and grow apart from one another.
Liars, "Sekwar"

Liars' Angus Young is never one to rest on his laurels or serve up anything like what he has given previously. As such "Sekwar," the lead single from new Liars album The Apple Drop (due in August), is another left turn from an artist who has made a career out of such moves. Grimy synths rub up against drums with a distinctly jazz-like rhythm to provide a bed for Young to explore ideas of momentum and revolution on a track that feels like crossing over into alien territory.
Origami Angel, "Noah Fence"

Origami Angel's Gami Gang is something of a wild concept, a double album of emo-laced punk with song titles including "Bed Bath & Batman Beyond." Like all great cult acts though, if you're into Origami Angel then you're all in, and songs like "Noah Fence" shows they have more in their arsenal than A-grade puns. Written about a visit from a door-to-door evangelical, vocalist Ryland Heagy flips his observations into a tender love song, cooling "They keep telling me 'bout heaven, it sounds a lot like when I'm with you."
Cavetown, "Ur Gonna Wish U Believed Me"

Robin Miller remains firmly in his feels on this heartbreaker, taken from the upcoming EP Man's Best Friend, due on June 4. Recovery is tough but Cavetown makes music worth battling through the hard times for
Torres, "Don't Go Putting Wishes In My Head"

While ostensibly marking Torres' move into something akin to synth-pop, "Don't Go Putting Wishes In My Head" rocks harder than pretty much anything on this list. Building and gaining momentum as it goes, this is a hugely confident song while (with lines like "if you don't want me to go dreaming/Don't spend your mornings and your evenings in my bed") still coming from a place of insecurity. Bring on new album Thirstier, due July 30.
Wavves, "Help Is On The Way"

Wavves will release new album Hideaway on July 16 and "Help Is On The Way" is the band at their most optimistic. Sounding like "Warning"-era Green Day, Nathan Williams makes peace with the world's ills and floats on past with barely a care in the world.
Snag, "Jar Spell"

Milwaukee screamo band Snag do not mess around. "Jar Spell" is fast-paced and furious, as if every band member is racing to finish the song first. Lyrics like "I need a moment of enormous bliss/ Your eyelashes like raindrops/ A tempest against my neck" mean Snag likely aren't for everyone but, should you be willing to take the plunge, there's a world of enjoyment ready to burst out of your speakers.
Caroline, "Skydiving onto the library roof"

Caroline are an eight-piece band from London who signed to Rough Trade Records in 2020. New song "Skydiving onto the library roof" reminds me of the esoteric end of the indie rock boom, think artists like Beirut and Jens Lekman, who filled their music with string instruments and allusions to books I haven't read. This sprawling 8-minute song is similarly heady, but something about it pulls you in closer with each repeat listen.
Modest Mouse, "We Are Between"

Modest Mouse have been away since 2015 but returned this month with "We Are Between," a breezy and anthemic indie rock tune with just enough weirdness to keep things interesting. The band will release new album The Golden Casket on June 25.
LUMP, "Animal"

LUMP are Laura Marling and Tunng's Mike Lindsay. Together, they make sleek and metallic songs with more than a hint of darkness at their core. "Animal" arrives ahead of a new album of the same name (due July 30) and finds Marling intoning about "swinging dicks" and killing white doves, her deadpan delivery doing little to hide the anger that lies beneath.
Seb, "Seaside demo"

This song has been floating around for a short while now but officially came out earlier this month. Laid back to the point of being horizontal, "Seaside" is a perfect early summer jam.
Japanese Breakfast, "Savage Good Boy"

New rule: if you cast a Sopranos actor in your music video you get fast tracked onto this list.
If you liked the article, do not forget to share it with your friends. Follow us on Google News too, click on the star and choose us from your favorites.
For forums sites go to Forum.BuradaBiliyorum.Com
If you want to read more Like this articles, you can visit our Social Media category.