"The 20 best rock songs right now"
This month's list includes new music from Paramore, Knifeplay, Shalom, Regulate, White Lung, and more.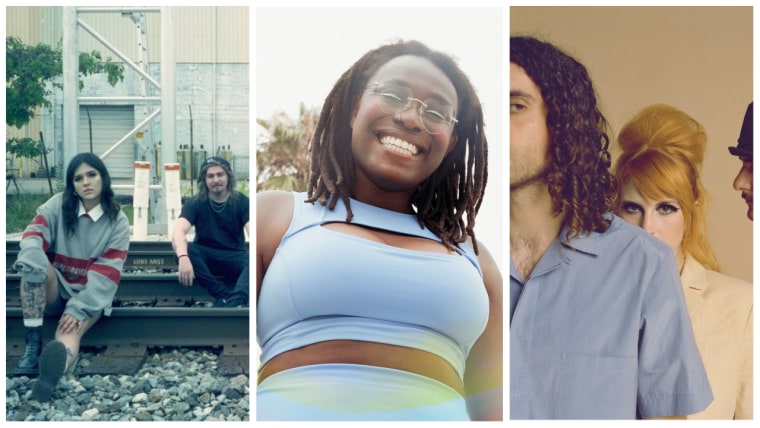 (L-R) Jivebomb, Shalom, Paramore.

Evan Reilly/Alex Free
Every month The FADER brings you the best indie, rock, and hardcore songs in the world (in no particular order).
Paramore, "This Is Why"

Paramore are back after a five year hiatus and it seems they have spent a good chunk of that time online slowly driving themselves insane. "If you have an opinion, Maybe you should shove it" Hayley Williams sings as she quietly aims fire at the trolls and bad faith actors.
Knifeplay, "Promise"

Knifeplay's forthcoming album Animal Drowning (out October 19) was recorded with producer Jeff Zeigler, known for his work with Kurt Vile and The War on Drugs. While there is a folksy quality to TJ Strohmer's songs, the immediate thing that hits you about "Promise" is the shoegaze-adjacent sound the band conjures up, as brutal as it is beautiful.
Wednesday, "Bull Believer"

Essentially two great songs stitched together, "Bull Believer" sees Wednesday announce their signing to Dead Oceans (Mitski, Phoebe Bridgers) with a mix of quiet and loud dynamics that is never less than entirely thrilling
Phoenix + Ezra Koenig, "Tonight"

No, you haven't accidentally stepped back into a dream you had in 2009; Phoenix x Vampire Weekend is a reality. "Tonight" is a rare thing, nostalgia-bait that doesn't feel dated or craven.
Regulate, "In The Moment"

Regulate's anti-influencer anthem is a little finger-waggy but lines like "We touch experience you can't fake, and if I lose this feeling my heart would stop beating" feels like the core of the hardcore experience and is pretty hard to deny. Just remember: no selfies in the mosh pit.
Shalom, "DTAP"

New to Saddle Creek is Shalom Obisie-Orlu, a Brooklyn-based singer-songwriter who works closely with producer Ryan Hemsworth. "DTAP" is lofi and scratchy song about a crush that explodes into indie-pop dance party ecstacy.
Brutus, "Victoria"

From the Belgian band's album Unison Life, available October 21 on Sargent House, "Victoria" is a song about learning to no longer fear getting older. "Wake me up inside, when the light strikes again. There is another way to find On my own I'll meet you there," Stephanie Mannaerts sings over stadium-ready wall of guitars.
S.C.A.B., "Tuesday"

More bands should write songs that reference quotes from Seinfeld. Speaking to Stereogum, Sean Camargo of Brooklyn post-punks S.C.A.B. said: "There's a scene from Seinfeld where Newman says 'Tuesday has no feel. Monday has a feel, Friday has a feel…' and that type of unspecific, hard-to-pinpoint vibe is what I wanted to express with the lyrics…"
Winter, "Good" featuring SASAMI

Winter is the project of Samira Winter, and on October 14, she will release her new album What Kind Of Blue Are You?. The tantalizing and captivating "Good" is the perfect entry point, with SASAMI matching Winter as they fall down a hypnotic and fuzzy path together.
Metz, "Come On Down"

Punk band Metz tag in IDLES frontman Joe Talbot to bring extra muscle to their already brolic sound. "Come On Down" is an all-out assault on the senses.
Excide, "Flip"

Carolina hardcore band Excide released their full-length debut Deliberate Revolver this month and "Flip" is an easy highlight that marries their love of big melodic hooks and mosh pit-ready breakdowns.
Lande Hekt, "Backstreet Snow"

Lande Hekt's new album House Without a View is indie pop with the emphasis on the indie, think C86 guitars and melodies that fall just the right side of twee. "Backstreet Snow" is a beautiful moment on the record and comes with an equally serene video shot across the Mendip Hills in Somerset, England.
These New South Whales, "Rotten Sun"

Aussie post-punk band These New South Whales make a line like "All good things will die, And that'll never change" sound way too exciting. Embrace a terrible future with them when they drop new album TNSW on November 18.
Gridiron, "Playin' For Keeps"

There's no point pretending that Gridiron don't sound a bit or even a lot like a nu-metal band. You can't rap over big gnarly riffs like this without invoking a little of the Fred Durst spirit. But, and it's an important one, Gridiron are pulling this shit off and there's something magic about that. Listen to "Playin' For Keeps," a highlight from this month's hardcore compilation One Scene Unity Vol. 3, for proof.
White Lung, "Date Night"

As soon as White Lung returned this month they announced their impending split with new album Premonition, out December 2, set to be their last. The good news is that "Date Night" shows the band has lost none of its furious and righteous nature while Mish Wys gravelly vocals remain as magnetic as ever.
Mamalarky, "Shining Amor"

"Shining Armor" is a wonky and distorted favorite from Texas indie band Mamalarky's new album Pocket Fantasy. Bonus points, too, for its amazing 3D video. Hit play and inject a bolt of color into your day.
Skinman, "Blissful Thinking"

On Bandcamp Mississippi hardcore band Skinman make multiple mentions of their music being both "creepy" and "downright sinister." There is an enjoyably macabre undertone to their whirling riffs and an energy that vocalist Emma helps ramp up with her relentless delivery.
Jivebomb, "Primitive Desires"

Baltimore's Flatspot Records is arguable the hardcore label of 2022 following releases from Speed, End It, Regulate, and now the groove-laden Jivebomb. "Primitive Desires" is the title track from an upcoming EP that packs five songs into just over five minutes. Shout out any band that respects your time in such a way.
Jobber, "Hell In A Cell"

If the image of Mankind being tossed off a giant steel contraption by The Undertaker in 1998 isn't permanently burned in your memory then this song may not be for you. NYC trio Jobber (another wrestling reference) do and they put that raw energy into each and every moment of "Hell In A Cell." The song itself works as a wrestler's lament ("Am I buried forever?/ If I start speaking my mind") but also taps into singer Kate Meizner's frustrations with a day job she can barely tolerate.
Samia, "Kill Her Freak Out"

Congratulations to Samia for writing this month's most striking lyric. "I hope you marry the girl from your hometown and I'll fucking kill her," she sings. "And I'll fucking freak out." OK Samia! Love sends people a little crazy sometimes and "Kill Her Freak Out" is brutally honest in a way that is admirably unflattering.
If you liked the article, do not forget to share it with your friends. Follow us on Google News too, click on the star and choose us from your favorites.
For forums sites go to Forum.BuradaBiliyorum.Com
If you want to read more Like this articles, you can visit our Social Media category.