Social Media
#Pennsylvania Family Of Three Found Dead After They 'Pre-Planned' Murder-Suicide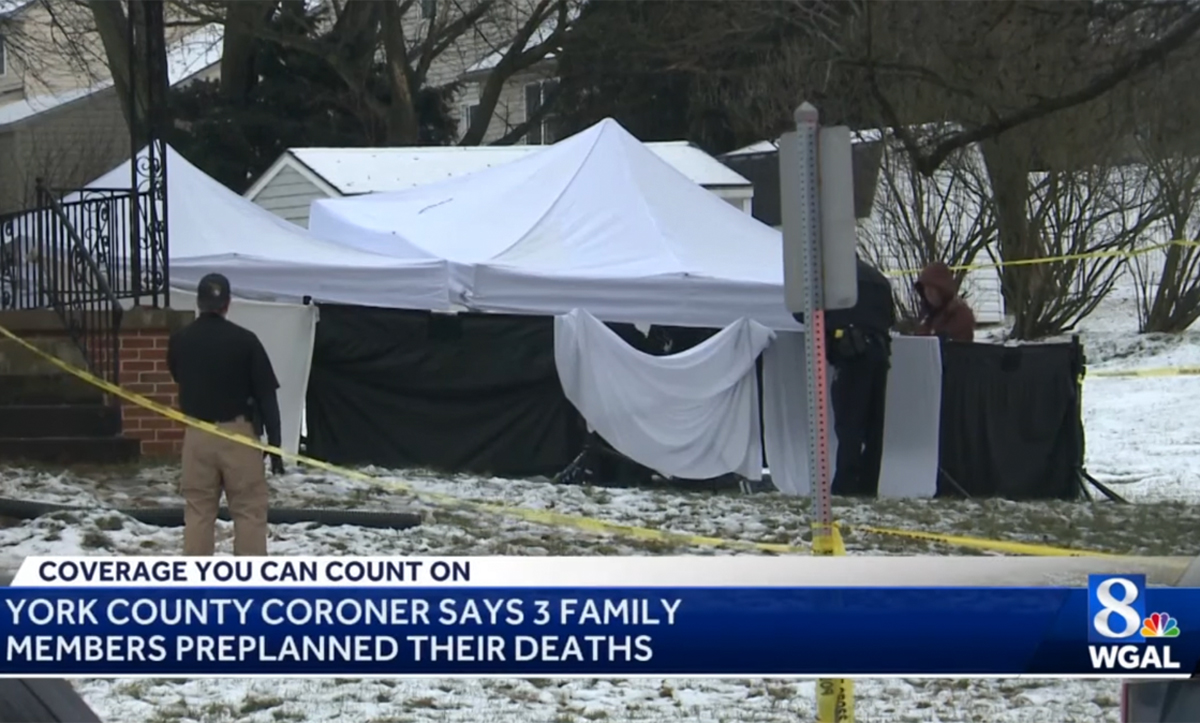 "Pennsylvania Family Of Three Found Dead After They 'Pre-Planned' Murder-Suicide
"
[Warning: Potentially Triggering Content] 
A family in Pennsylvania was found dead in what is believed to be a "pre-planned" murder-suicide.
According to the West Manchester Township Police Department, three people were found dead at their York County home on Wednesday morning. Per KATV, a neighbor's daughter called the police that day when she saw some tarps in the backyard where the bodies were. When police arrived at the house to conduct a welfare check, they uncovered a gruesome massacre. Three people – 26-year-old Morgan Daub, 59-year-old Deborah Daub, and 62-year-old James Daub – were found dead on the ground in the backyard of the residence. Police said in a statement at the time:
"The situation is believed to be an event within the family and officers continue to investigate and collect information surrounding this tragedy. Our thoughts and prayers go out to the friends and families of the Daubs."
Related: Porn Star BITES Cop After Nude Escape From Drug-Fueled Car Crash!
According to a report from the York County Coroner, the family members appeared to have died in a grisly murder-suicide pact. Detectives uncovered evidence of "communication" between the three people about planning the killings. It is believed Morgan killed her mom and dad with one gunshot to the head before turning the weapon on herself. The coroner ruled the daughter died by suicide while Deborah and James died by homicide. The coroner stated, per The York Dispatch:
"After a detailed investigation and evidence found on scene, including communications from the family members, it was determined that the three family members had pre-planned their deaths."
So, so awful.
One piece of evidence that seemed to allude to this horrific incident was a YouTube video Morgan posted one day before she and her parents were found dead. She simply said, the outlet reported:
"Follow me as I follow Christ."
She also shared a video on November 26 where she spoke in a British accent, saying:
"I, Morgan Elizabeth Daub, York, Pennsylvania, United States of America, do you hereby abdicate the Throne of the United Kingdom. … This is funny… This was the penultimate plan against me and against God. Didn't know I was the ideal pick for Antichrist, for the devil. I was the ideal pick for Antichrist."
She then wrote in the caption for the clip:
"This is a public record of my abdicating the throne and cannot and will not be retracted by me. I was not in any way coerced into abdicating. I am of sound mind and body, and I have chosen this of my own free will. Also, I fully intend to sign official documents at the earliest convenience. For anyone who doesn't know me and randomly finds this video, it is quite the long story of how I would be next in line for the throne. All will be told in due time."
Morgan then posted a 30-minute video in September, claiming her family was "being denied fundamental human rights." She went on to say:
"You will find out why I am such a threat soon enough."
Just chilling…
If you or someone you know is contemplating suicide, help is available. Consider contacting the 988 Suicide & Crisis Lifeline at 988, by calling, texting, or chatting, or go to 988lifeline.org.
[Image via wgaltv/YouTube]
If you liked the article, do not forget to share it with your friends. Follow us on Google News too, click on the star and choose us from your favorites.
For forums sites go to Forum.BuradaBiliyorum.Com
If you want to read more Like this articles, you can visit our Social Media category.