News
# Party like it's 1999? 'Blue wave' should keep 'the bull market in everything' alive for a while, but that could change in a hurry, strategist warns
"#
Party like it's 1999? 'Blue wave' should keep 'the bull market in everything' alive for a while, but that could change in a hurry, strategist warns
"
"
'The Nasdaq from late 1998 to early 2000 went up over 200%. Now, we're up almost 100%, and we may very well be on that same track. Everything I'm looking at points to a melt-up.'
"
That's Edward Yardeni, president of Yardeni Research, taking a cautious view in a recent CNBC interview of where the stock market is headed from here. The relentless rally in cryptocurrency, he explained, is just one of the signals pointing to potential weakness.
"It's just part of the bull market in everything," Yardeni explained. "It's very important whether you're in or not in bitcoin
BTCUSD,
-4.16%
to just stare at the chart, and realize when it's going straight up — it's certainly a sign of exuberance, of speculative excess."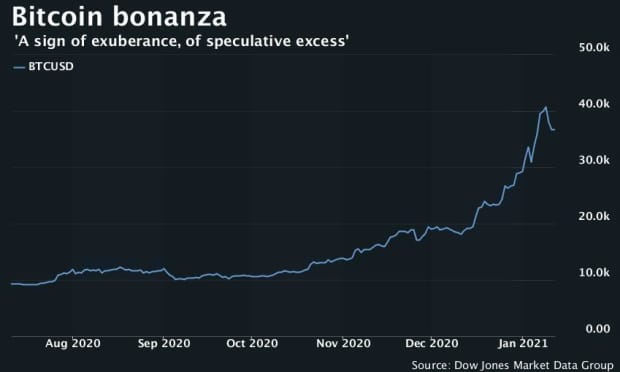 As for a timeline of when it could take a turn for the worse, Yardeni, a longtime Wall Street strategist, said that the broader market rally should have some legs for awhile.
"The first half of this year, the blue wave will probably continue to be bullish," he said. "We're going to get more government spending. We're going to have the Federal Reserve front a lot of that government spending through quantitative easing. I think interest rates will remain pretty low."
But that could change in a hurry as the U.S. economy begins to recover from the pandemic. "In the second half of the year," Yardeni said, "we may be on the lookout for some consumer price inflation which would not be good for overvalued assets."
Watch the interview:
No signs of a melt-up on Sunday night, with futures on the Dow Jones Industrial Average
YM00,
-0.57%,
S&P 500
ES00,
-0.60%
and tech-heavy Nasdaq Composite
NQ00,
-0.51%
all pointing to a sluggish start to the week.
If you liked the article, do not forget to share it with your friends. Follow us on Google News too, click on the star and choose us from your favorites.
For forums sites go to Forum.BuradaBiliyorum.Com
If you want to read more News articles, you can visit our News category.