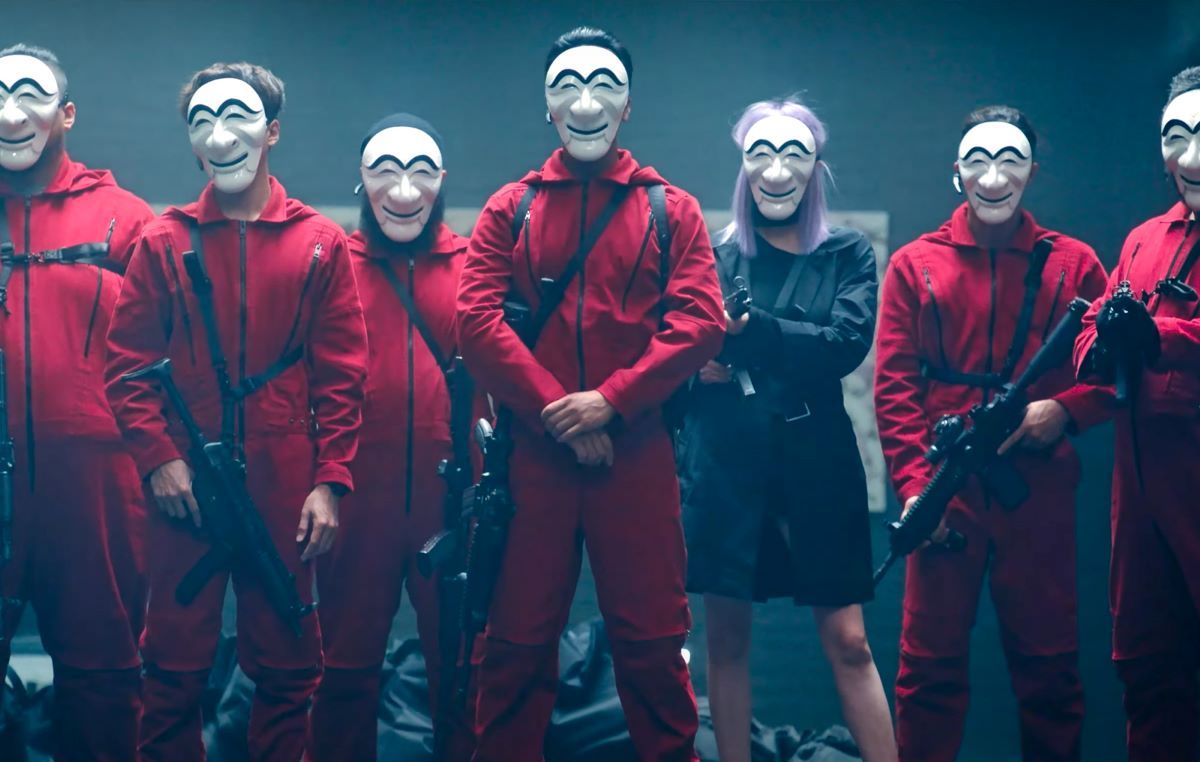 "Korea – Joint Economic Area Part 1"
Netflix has released the trailer for
Money Heist: Korea – Joint Economic Area Part 1
. In this reimagining of the popular Spanish series
Casa de Papel (Money Heist)
, North and South Korea are at point of unification after war. A joint security area, located precisely where the two countries meet, houses a mint printing a new currency intended to join economies. The outcome, however, is not what the countries expect and this act of solidarity, the trailer tells us, makes it so that "only the rich got richer."
The new show is directed by Kim Hong-sun, written by Ryu Yong-jae, Kim Hwan-chae and Choe Sung-jun and produced for Netflix by BH Entertainment and Zium Content. In a statement to Nelflix writer Yong-jae, a fan of the original Spanish series, says:

"It felt like destiny when I was offered to adapt the original story. I was intrigued by the premise of the remake because not only is it about the conflict between robbers and police, but also it adds new layers such as the tension, mistrust, and harmony between North and South Korea. A situation where thieves from Nnorth and South Korea join forces, and police from north and south join hands to stop their way adds a Korean lens into the original IP."
Just like in its predecessor, our heist anti-heroes wear red jumpsuits. Instead of the Dali masks, this crew of robbers opts for traditional Korean Hahoe masks. The series includes character aliases from Casa de Papel, including mastermind Professor, played by Yoo Ji-ta. The cast also includes Kim Yunjin (Seon Woojin), Squid Game's Park Hae-soo (Berlin), Jeon Jong-seo (Tokyo), Lee Won-jong (Moscow), Park Myung-hoon (Cho Youngmin), Kim Sung-o (Cha Moohyuk), Kim Ji-hun (Denver), Jang Yoon-ju (Nairobi), Lee Hyun-woo (Rio), Kim Ji-hoon (Helsinki), and Lee Kyu-ho (Oslo).

Money Heist: Korea – Joint Economic Area Part 1 premieres June 24 on Netflix. Season one will be composed of 12 episodes.
Related: Korean TV and Film: What to Expect in 2022


Casa de Papel Concludes After Five Seasons
Casa de Papel came to a close this past December with its fifth season. The nine episode season was split into two parts. In an interview with Esquire, show creator Alex Pina revealed that he wrote the show's final episode 33 times and said this about his decision to finish the series on a high note:
"I think we always had an idea or a fear—which is the fear that your series will wear out and will be devalued—as we continued to film more seasons. We always thought that we had to stop when the series was highly demanded, when it was still in its 'golden age'. It seemed like that was just what we had to do with the series."

Casa de Papel starred Úrsula Corberó, Álvaro Morte, Itziar Ituño, Pedro Alonso, Paco Tous, Alba Flores, Miguel Herrán, Jaime Lorente and Esther Acebo.
Darth Vader's Obi-Wan Kenobi Return Wasn't a Sure Thing
Read Next
If you liked the article, do not forget to share it with your friends. Follow us on Google News too, click on the star and choose us from your favorites.
For forums sites go to Forum.BuradaBiliyorum.Com
If you want to read more Like this articles, you can visit our Social Media category.