Technology
#Kalashnikov wants to make electric minicars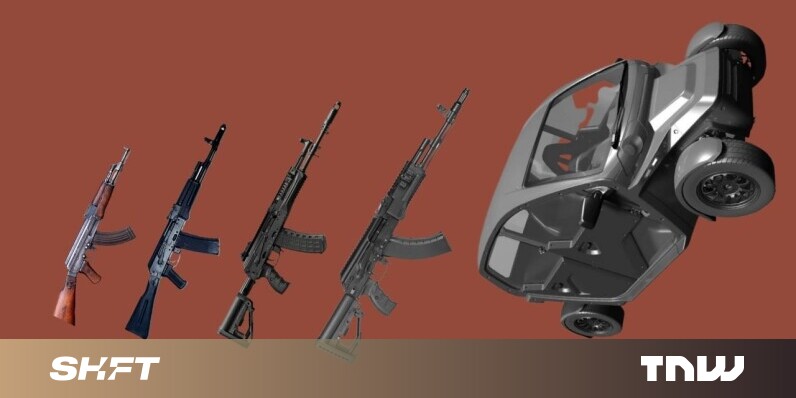 "#Kalashnikov wants to make electric minicars"
The (in)famous rifle manufacturer Kalashnikov isn't sticking to its guns — both literally and figuratively —
as much as it used to. After making weapons for 214 years, it's now eyeing a piece of the EVmarket.
The UV-4 four-wheeler
Kalashnikov first showed off its UV-4 four-wheeler back in 2018, initially presented as a prototype at the international forum ARMY. 
A year later, the company introduced the UV-4's taxi variant.
The taxi version basically shared the same characteristics with the original, but had an improved air-conditioning and heating system.
Now, the patent images indicate that the UV-4 hasn't changed much, retaining the original odd shape of a quadricycle (which makes it look a whole lot like an elongated Renault Twizy), the military-style doors, and the exposed wheels. 
In my opinion, its styling is a bit weird. It doesn't have a full-width front like most cars, and opts for a narrower nose. Plus, the rear end is also aggressively styled, and the overall shape is reminiscent of classic cars from the 1920s. That's a strange combination. 
If we assume that it shares the same specs with its predecessors, then it would feature an (unspecified) battery pack that should allow for a 80km/h top speed and 150km of range. The company has also suggested a power figure of 67hp.
Regarding the interior, we can expect that it'll maintain the minimalistic style of the exterior design — no fluffs and extras, just the basics. You only need the essentials to go to battle, right?
The unnamed three-wheeler
The electric three wheeler is even smaller. It looks like it shares the same front end with its four-wheel brother, but is somewhat more rounded and has no doors — so it's kinda like a reverse auto rickshaw.
There's room for two passengers and some luggage (I guess?). It also comes with a sunroof.
There's no official word on a launch date, but given that the company has been working on the prototypes for some years now, I wouldn't be surprised if an announcement would follow soon.
If you ask me, I'm impressed by the peace-making character of Kalashnikov's minicars, but not by the vehicles themselves. And although they're meant for urban drivers, I doubt consumers would opt for a city car that looks like it rolled right off a battlefield.
I prefer Kalashnikov's CV-1 electric concept car, based on the 1970s Russian family car, the Moskvich 412. It's much more powerful and way more elegant.
Still, I wouldn't buy a vehicle from a company that produces currently weapons unless, I don't know, someone put a gun to my head.
If you liked the article, do not forget to share it with your friends. Follow us on Google News too, click on the star and choose us from your favorites.
For forums sites go to Forum.BuradaBiliyorum.Com
If you want to read more like this article, you can visit our Technology category.