"JELEEL! Yeah!"
JELEEL! Yeah!
He's gone viral performing backflips and screaming his own name — but there's more to Rhode Island's soft-spoken rising star than stunts.
Photographer
Alex Hodor-Lee

Photographed on a Google Pixel 6a.

The FADER's longstanding GEN F series profiles the emerging artists you need to know right now.
After several hours spent walking through Chinatown with JELEEL!, I have to ask: does he think his life is a video game?
We're sitting in a tiny coffee spot, more kiosk than cafe, a few blocks from Canal Street. Earlier that day, the Los Angeles-based rapper had done a backflip in the middle of traffic, stood on top of a pillar along the Manhattan Bridge with his arms open wide, and executed a one-armed handstand — again, in traffic. He had also yelled out his name at least twice, stretching out the vowels and causing more than a few bystanders and pedestrians to turn their heads in confusion.
Amused by a question he's somehow never been asked before, the Rhode Island native chuckles. "Yeah of course. I feel like everyone should feel that way because it's your life," he says, his voice heavy with sleep after a long photoshoot. "And you should always be the main character."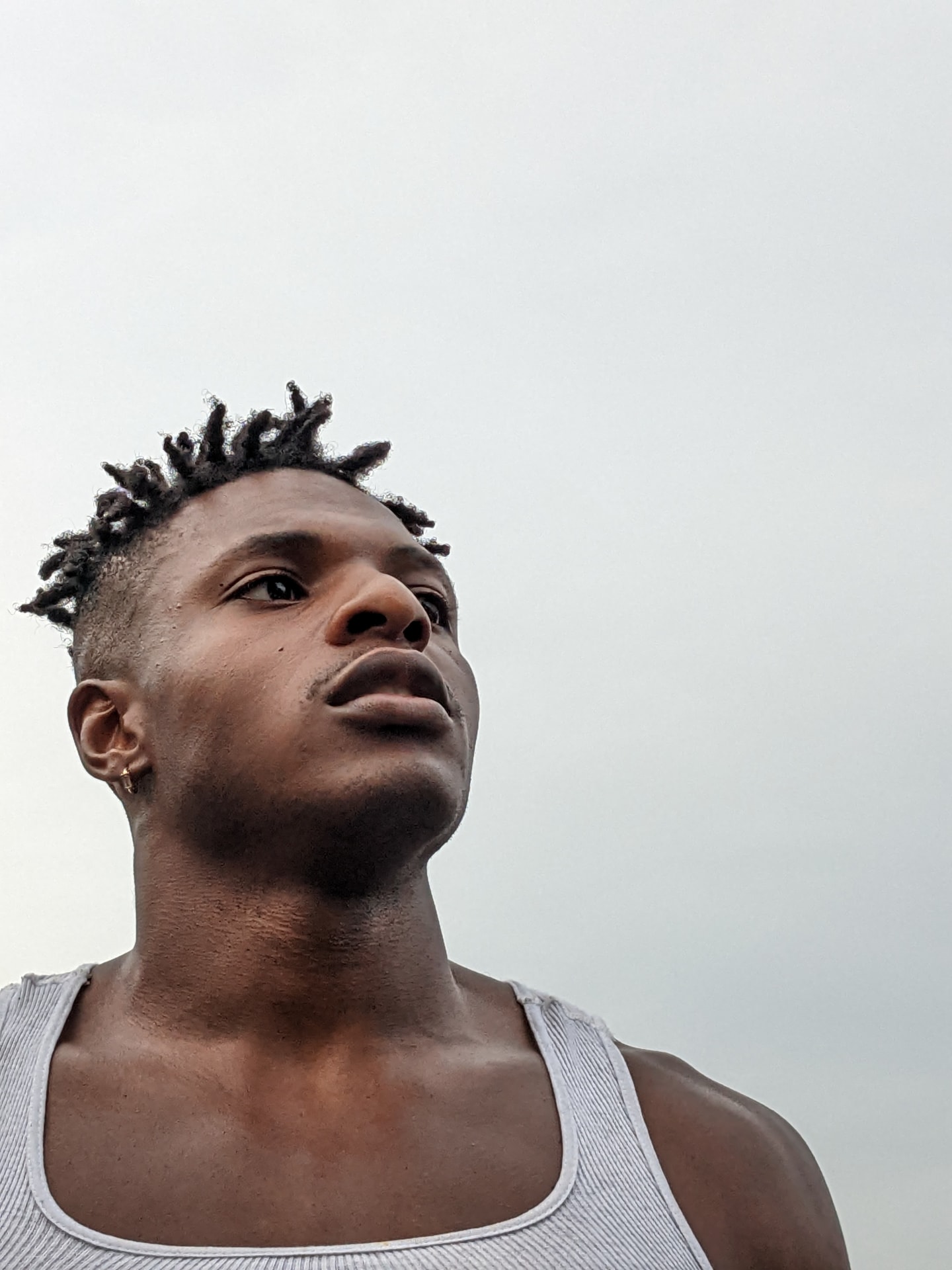 Photographed on a Google Pixel 6a.

The youngest of three — his brother is an engineer, and his sister is an entrepreneur— Jeleel Yussuf grew up reaching for the spotlight, learning from his siblings' dedication to their separate endeavors. That lifelong sense of ambition is paying off: in about 48 hours, the 26-year-old will stomp across a stage at Rolling Loud New York 2022, mere months after debuting at the hip-hop festival's flagship event in Miami.
Since the release of his 2019 debut album Angel From Heaven, JELEEL!'s career has ridden wave after internet-generated wave, buoyed by a personality that seems both sincere and manufactured to grab as many eyeballs on social media as possible. Either way, his joy is profuse and infectious. He pulses through tracks like "Big Bad!," "Malibu!," and "Uh Huh!," which tilt their hat to the melodies of the early-aughts and the constant rage of the internet-bred generation, combining the angst of Evanescence and the slapstick lyricism of Ski Mask the Slump God. In this era of nostalgia-heavy digital consumption, it's a golden recipe.
His music is made for arenas and gyms; he's striving to headline the former, and he spends as much time as he can at the latter. "My music is uncut. It's untainted, and that's why I call it real raw energy because when people hear it, they feel energized, and like they need to get up and go work out, or run through a wall," he says, the last line couched in peals of laughter.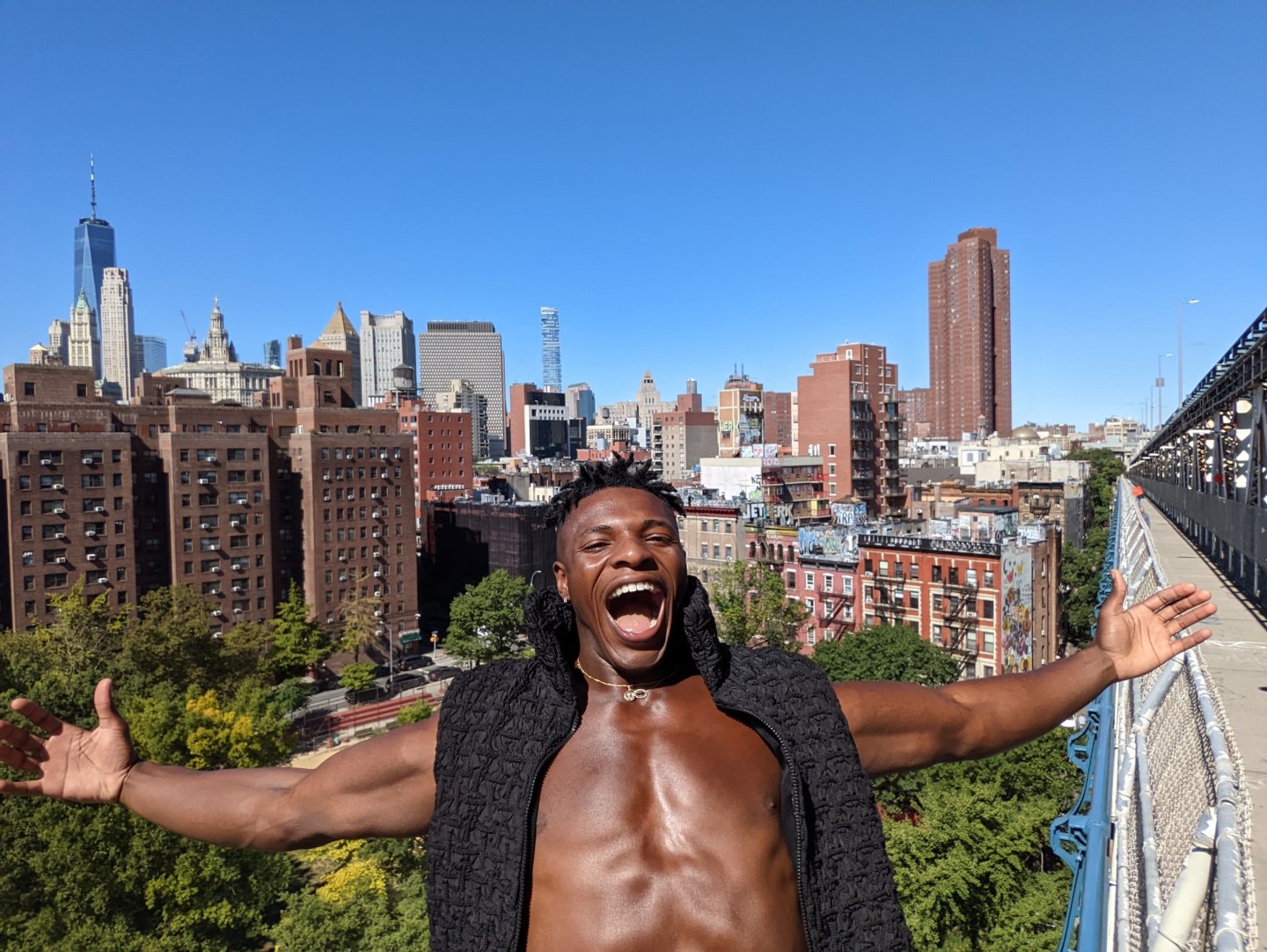 Photographed on a Google Pixel 6a.

A couple of days later, at Rolling Loud, JELEEL! bounces from one end of the stage to the other, spinning into backflips and catching a bottle of Sprite thrown by a fan in mid-air. Instead of telling people to stop throwing things, JELEEL! chugs the drink before casting it aside. Cans and bottles continue to fly toward the stage, plus a few phones and pieces of clothing.
These kinds of physical onstage antics have already become JELEEL!'s calling card — but he doesn't want anything to eclipse his songs. "People know me for ripping my shirt and backflipping, but I'm really talented and they don't know that. That's why I gotta maybe limit the backflips and stuff, because I don't want people to think the music is being overshadowed, you know." His voice trails off, and he sits silently for a moment. "It's just one of those things."

Photographed on a Google Pixel 6a.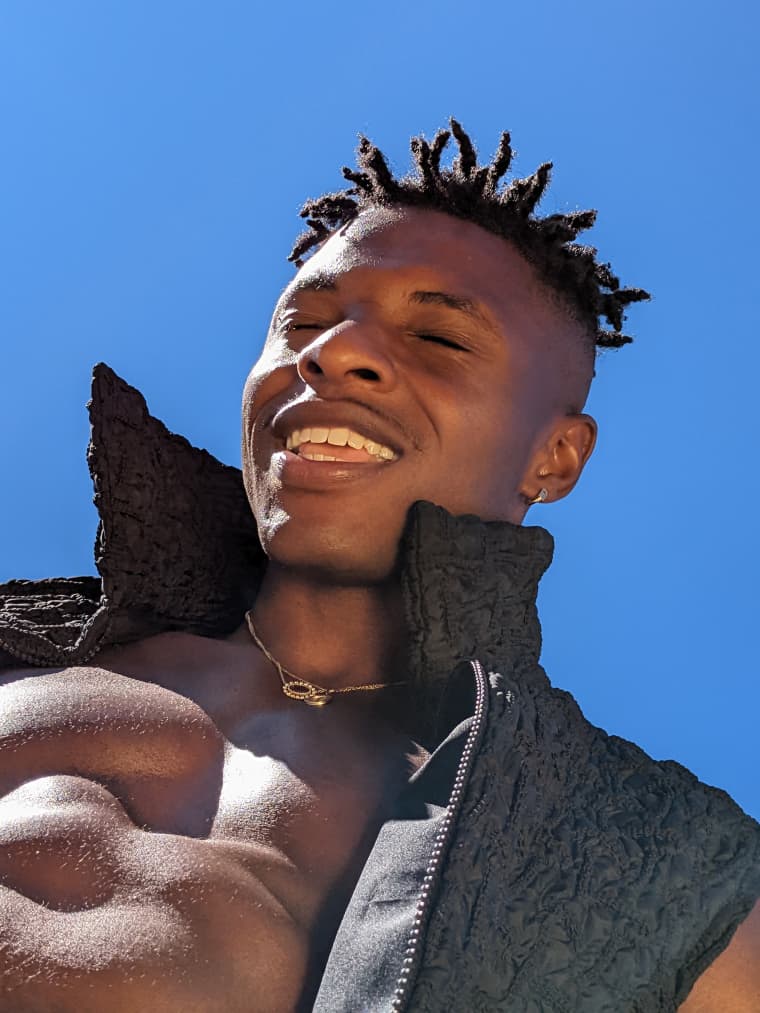 Photographed on a Google Pixel 6a.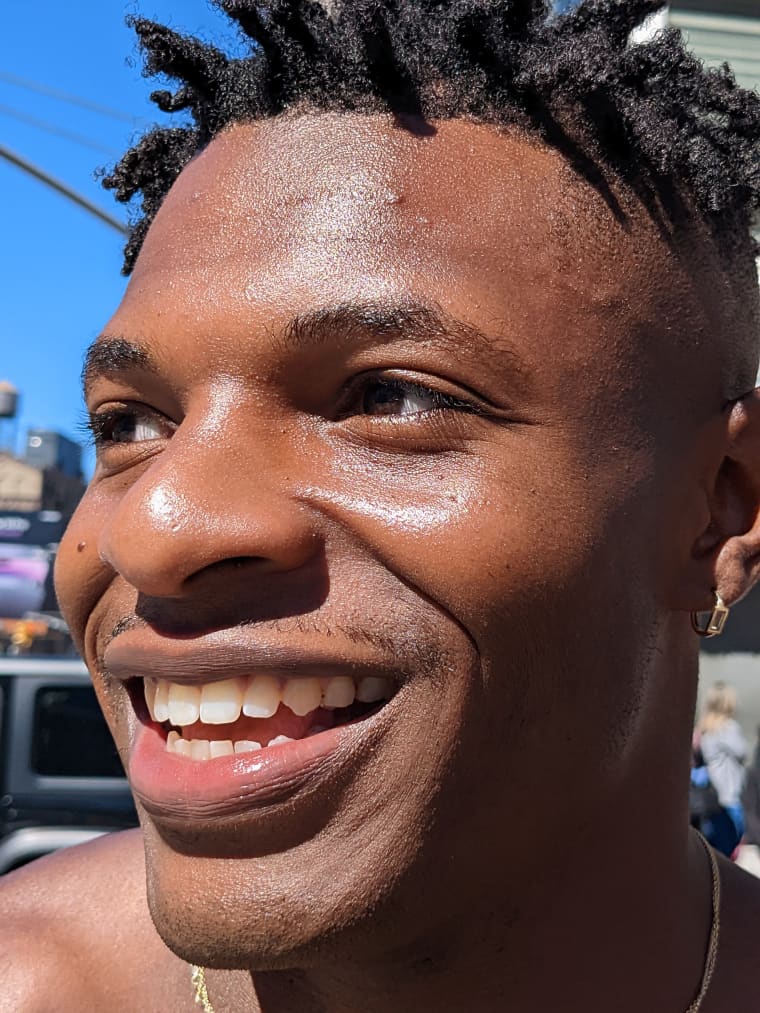 Photographed on a Google Pixel 6a.

Fusing pop-punk tones with the rhythms of contemporary West African afrobeats, JELEEL!'s creative impulses speak to his ability to weave the rhythms shaping the zeitgeist into something distinctly his own. Born to Nigerian parents, JELEEL! grew up listening to Afrobeat and Fuji, the latter a combination of Highlife and Wéré popularized within Nigeria's Yoruba communities and used to awaken devout Muslims to prayer. "I'm Muslim, so I would listen to the Quran and growing up you had to recite the Quran and learn the duas. So I was listening to a lot of African and Arab culture," JELEEL! says. "I would hear the cadences, and I feel like maybe that helped me a lot with my music as well."
While his outward persona is brash — damn near supercharged — the solitude of faith and prayer is an intrinsic part of JELEEL!'s life, keeping him grounded and settled. "I believe in praying a lot, and when I pray I feel connected to God. Before I do anything, like walking into the door, eating food, or recording, I always say Bismillah which means, 'In the name of Allah, the most gracious, most merciful.'" This small but direct entreat allows JELEEL! to move with the trust and knowledge that he is taken care of, and held by something so much larger than his sheer will and talent. "I'm not trying to portray any type of ego in my music because I don't have egos," he adds softly. "I just want people to feel the energy and relate to it because it's all from God."
JELEEL! is channeling that energy into his forthcoming second album — a record he hopes will be a corrective to his 2020 EP Generation Z, which he saw as creatively lacking. "When I made Angel From Heaven I was homeless. I didn't have shit. But sometimes being homeless and not having shit, you make the best music," he says. "With Generation Z, I had a home but I kinda rushed it. When you're making a project you have to be very meaningful and it needs to make sense. The best music is music that takes time."
Although he's trying to take his time, JELEEL! can't help moving at a rapid pace — and it's hard not to break a sweat just from watching him perform. But he's determined not to let something as frivolous as time interrupt his flow. "I haven't gotten drained yet, but sometimes I be tired," he says. "I'll be good though. I am thankful to be alive, just grinding. And pushing the JELEEL! agenda."
If you liked the article, do not forget to share it with your friends. Follow us on Google News too, click on the star and choose us from your favorites.
For forums sites go to Forum.BuradaBiliyorum.Com
If you want to read more Like this articles, you can visit our Social Media category.