Social Media
#Jaime King's SHOCKING Child Support Agreement Revealed!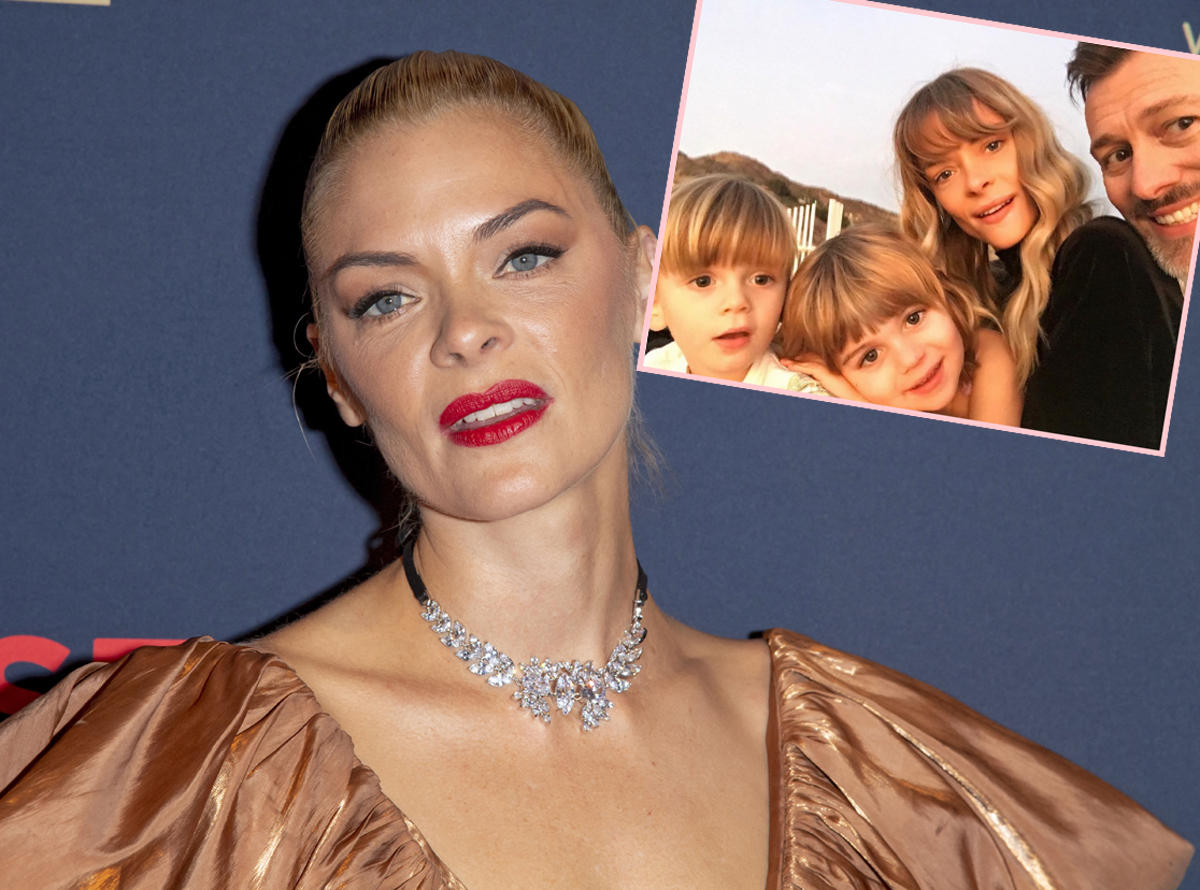 Hold up – Jaime King has to pay only how much child support to Kyle Newman?!
Ever since she filed for divorce from the filmmaker in 2020, the former couple had been dealing with a nasty custody battle over their two children, James and Leo. Jaime accused Kyle of domestic violence, even filing a restraining order against him, while the 47-year-old director alleged she had struggled with substance abuse and wanted her regularly drug tested. Kyle also accused her of selling their home and using "$500,000 from their community property retirement accounts without his consent."
Related: Kevin Costner's Divorce Is Settled!
So things got vicious between them for a while! However, it appears these two finally have come to some sort of custody agreement and officially settled their divorce! They announced last week in a joint statement:
"We have come to a peaceful, loving and harmonious completion of our marriage. As parents loving must prevail. The health and well-being of our children has always been our utmost priority. We look forward to co-parenting with grace and understanding. We respectfully ask for privacy for our children and our families at this time. Sincerely- Jaime and Kyle"
Wow. Who would have thought after three years of a messy fight these two would find a peaceful way to move forward?! We love to see them striving to keep things amicable now! But what exactly did they agree to in the divorce settle? A week after the announcement, the details of are finally coming out…
According to court documents obtained by The Blast this week, Jaime and Kyle agreed to share joint physical and legal custody of their children. And when it comes to child support, you'll never guess how much – well, we should how little she has to pay to Kyle! She agreed to hand over $429 a month in child support. DAMN! Someone should give her divorce attorney's phone number to Kevin Costner ASAP.
On top of the $429 a month, the 44-year-old actress will shell out $1000 a month in spousal support, and that payment will be made until Newman either remarries or dies. But here are some inneresting details about this matter – the pair agreed to have the support paid on a sliding scale. What does this mean? Well, Jaime will need to give 16 percent of any income she receives that surpasses $175,344 per year as additional child support. As for an additional spousal support payment, she must cough up 10 percent of any income she gets that exceeds $175,344 per year.
Basically, Kyle is getting a big payday if she lands a big movie or television show moving forward. While one would think Jaime would be pissed about that fact, they've seemed to come to this agreement amicably! So perhaps, she's fine with having extra payments in the future — or she's just done arguing over the matter at this point!
Elsewhere in the settlement, the exes were ordered to not "make derogatory nor disparaging remarks about the other to or in the presence of, or within the hearing of, any minor child." Makes sense given the serious accusations they were previously throwing out about each other…
Jaime will still have ownership of any business property and banks in her name. That said, the $300,000 made from selling their marital home will be Kyle's sole and separate money. Plus, the two are required to meet up to divide their personal property, furniture, and other belongings from their marriage.
It's great to see Kyle and Jaime were able to close this brutal chapter in their lives. Here's hoping they can continue to keep the peace moving forward! Reactions, Perezcious readers? Let us know in the comments below.
[Image via Jaime King/Instagram, MEGA/WENN]
If you liked the article, do not forget to share it with your friends. Follow us on Google News too, click on the star and choose us from your favorites.
For forums sites go to Forum.BuradaBiliyorum.Com
If you want to read more Like this articles, you can visit our Social Media category.