News
# Hungary and Poland have caused a logjam on stimulus — here's what the ECB will do
"#
Hungary and Poland have caused a logjam on stimulus — here's what the ECB will do
"
The European Union is deadlocked on stimulus, as the European Central Bank prepares a bond-buying boost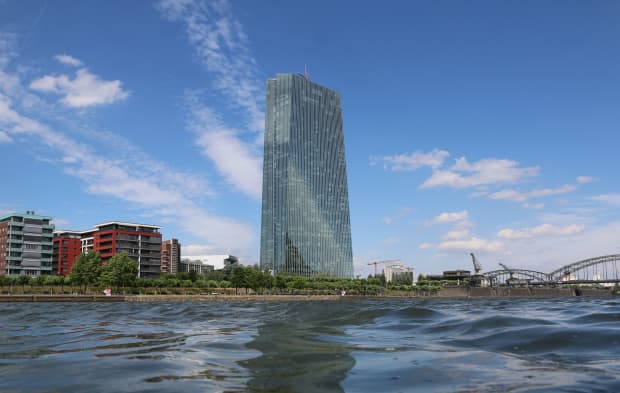 Hungary and Poland are still vetoing implementation of the European Union's $900 billion fiscal stimulus package agreed in July, as the European Central Bank is likely to ease monetary policy further later this week.
EU leaders will gather in a summit on Thursday to find a solution to the veto exercised by Hungary and Poland against both the coronavirus-pandemic-focused fiscal package and the EU's next seven-year budget.
The two governments are demanding changes to rules making disbursement of the funds to member states conditional on abiding by rule-of-law principles, after raising criticism against their recent laws subjecting the countries' judiciaries to political control.
The ECB's ruling body will gather on the same day to publish the result of a review of its monetary policy tools, and is likely to announce both a further increase of its asset-busing program and easier financing conditions for eurozone banks.

According to most analysts, the ECB could add up to €500 billion to its existing coronavirus-specific quantitative easing program, taking it to a total €1.85 trillion.
Read: The global recovery remains uncertain — here's why the OECD wants fiscal stimulus to continue
The outlook:
The two Thursday meetings will throw a new light on the difficulty of a European coordinated fiscal response to the COVID-19 pandemic, not a single cent of which has been spent six months after the package was officially approved. The ECB remains the main architect of the response to the COVID recession.
On the Hungarian/Polish problem, the other 25 EU members could soon explore ways to go ahead with the stimulus package through an ad hoc agreement that would then deprive the two outliers of the funds: In the program agreed, the EU would jointly borrow funds on the market and disburse them in the form of grants or low-interest loans to member countries.
The threat is so far used to try force the two governments into a compromise. It could become a reality if the deadlock persists.
Read: Tycoons and sports stars to be exempt from quarantine in controversial English travel rule
If you liked the article, do not forget to share it with your friends. Follow us on Google News too, click on the star and choose us from your favorites.
For forums sites go to Forum.BuradaBiliyorum.Com
If you want to read more News articles, you can visit our News category.