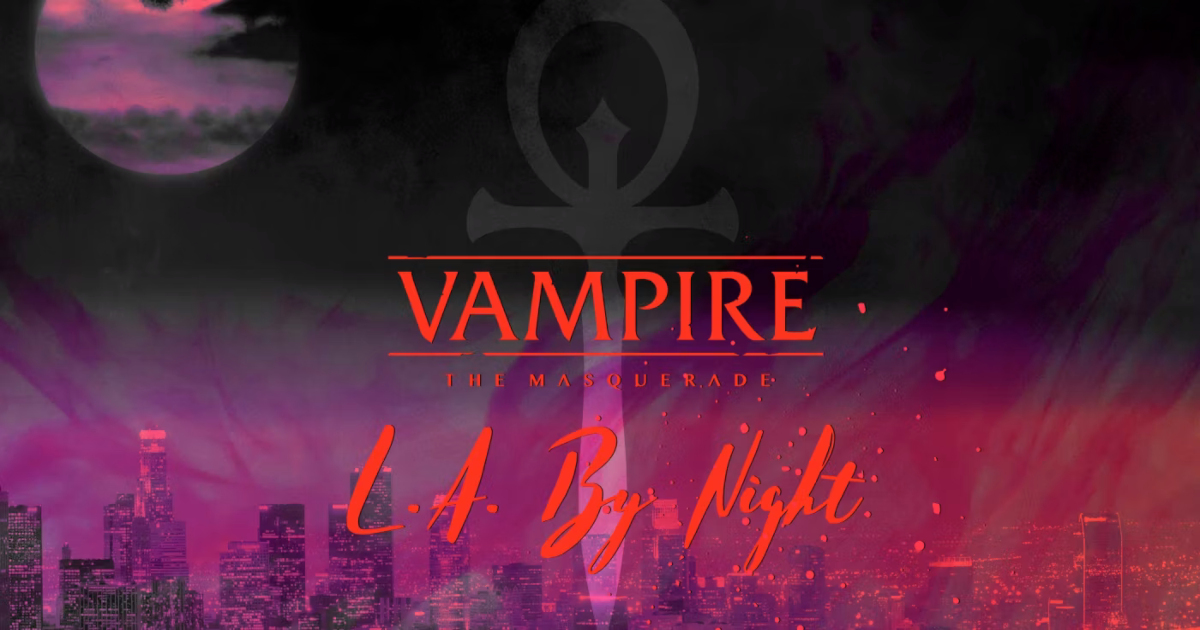 "Best Guest Stars in L.A. by Night, Ranked"
L.A. by Night is an actual-play series focusing on a core group of players as they create a compelling story set in a world of darkness. While the coterie of Annabelle, Jasper, Nelli G, & Victor Temple stick together to survive, they will come across many friends and foes along the way. Eva & X stand out, though they would be accepted into the coterie and promoted to main stars.



Here we'll look at the many actors to come to the show as guest stars. We'll be looking at their performance, their contributions to the series, as well as looking at their accolades that helped them to stand out amongst the pack. Be they Kindred, ghouls, or anywhere in between, these actors stood out as some of the best to step foot into the vampire world of L.A. by Night.

8

Ramona (Bex Taylor-Klaus)
Ramona is a Gangrel, a Kindred who leans more into their animalistic side. This can be very true for Ramona as she can morph into the form of an Owl and can turn the rats around the campus grounds into her ghouls, allowing her to see through them. Ramona tends to be more guarded, though she shares Annabelle's passion for rising against authority figures.
Bex Taylor-Klaus brings a playful energy to the role. While they can still maintain their grit when facing off against an authority figure like Victor, their powers make them an indispensable asset to the coterie. Bex was best known for their role as Audrey Jensen in Scream: The TV Series and their voice work as Pidge in Voltron: Legendary Defender.


7

Suzanne Rochelle (Amelia Rose-Blaire)
Suzanne would be a vital member of the Primogen to Prince Vannevar, acting as his Seneschal or his right-hand woman. A Toreador, Suzanne tended to gravitate towards the more beautiful things. She had shown an affinity for Nelli G., completely entrancing Nelli into falling in love with her while avoiding Nelli's attempts to return the favor. Suzanne has proven to be a cunning opponent in diplomatic talks, indeed.
Amelia Rose-Blaire plays the role well, her chemistry with Prince Vannevar on full display. Amelia is most known for her work as Willa Burrell on True Blood, but has also made appearances in Scream: The TV Series and in the video game Detroit: Become Human. These acting credits would be on full display, with Amelia embodying the confidence of Suzanne flawlessly.

Related: True Blood: Where the Cast is Today

6

Delilah (Mica Burton)
Delilah only makes a handful of appearances in the series, but it is powerful as Annabelle seeks Delilah out to begin negotiations. Delilah is the head of a club that services Thin-Bloods, a younger generation of Kindred that is looked down upon. Delilah is considerably powerful, both in strength and in her political power, thanks to the wealth her property brings in. Annabelle would seek Delilah out to secure the Thin-Bloods as potential allies should the Anarch's peace treaty with the Camarilla come to an unfortunate end.
Mica Burton performs Delilah, displaying the passion and power of the character to a considerably well-done degree. Mica may be more well known for her excellent cosplay; however, she's also gotten to take part in multiple scripted segments with Rooster Teeth, as well as the improv comedy that comes with their Let's Play team. This experience would be just what the second-generation Trekkie needs to keep on her toes and react swiftly to keep pace with the rest of the players during intense dialogue.


5

Carver (Taliesin Jaffe)
Carver is the Brujah that had sired Annabelle. Carver grew to like the rebellious spirit that Annabelle and her friends had and would stalk them to watch as they firebombed the house of a corrupt politician. Unfortunately, another Kindred owned the house and attacked the group, draining Annabelle dry. Rather than watch Annabelle die, Carver would embrace her and bring her back as a vampire.
Taliesin always carried a smug and cocky demeanor with the character, but when the situation called for it, he proved more than capable of bringing a sense of somberness to his tone. Taliesin is no stranger to actual-play programming. Taking on the role of Percival Fredrickstein Von Musel Klowssowski de Rolo III for Critical Role, Taliesin always thinks quickly and provides funny and emotional moments. You can also hear him voice acting in the Amazon Prime adaptation of Critical Role.

Related: Explained: How Critical Role Turned Into Acclaimed Series The Legend of Vox Machina

4

Vannevar Thomas (Bryan Dechart)
Prince Vannevar Thomas, the leader of the Camarilla, enters the series with intentions of taking the Valley back from the Anarchs as the war for Los Angeles continues. As the series continues, Vannevar appears to be slowly sinking into madness as the Beckoning threatens to overtake him. But the hundreds-year-old Prince wants to cling to his power and will hold nothing back in his pursuit of conquest.
Vannevar is brought to life by Bryan Dechart. It's appealing to see the actor having a chance to show a wide range of emotions. Beautifully capturing the regality fitting Vannevar's stature, he also displays an excellent depth when it comes time to exhibit bouts of insanity. Bryan Dechart is best known for his motion and voice work as Connor, an android heavily featured in the video game Detroit: Become Human.


3

Kyoko (Faye Mata)
Kyoko is the youngest of the Wyrd sisters, a trio of Tremere that were brought into the Valley despite being pursued by the Camarilla, thanks to the timely intervention of the coterie. Displaying a hyper personality and a naive attitude towards life, Kyoko tends to open her mouth in situations where silence is the better option.
Faye Mata makes what was once an NPC a genuinely endearing character. As Kyoko ventures out of her sister's shop, Faye Mata becomes the character that is constantly asking questions, with Annabelle even taking a role in educating Kyoko on the different politics at work. Faye is primarily known for her voice work. Both animated television (Kagame in Miraculous: Tales of Ladybug & Cat Noir) and video games (Lulu- The Faye Sorceress in League of Legends).


2

Gregory Demetrios (Vince Caso)
Initially an enemy of the coterie, Greg is a vampire hunter, representing the feared Second Inquisition. However, Nelli G is able to turn him to their side by making him a ghoul. Greg is now under the impression that he enjoys Nelli's company and is willing to do whatever she commands without question. While it's been shown that the effects are less severe, the longer he goes without Nelli's blood, he may have still come to care for the coterie, though his situation casts doubt.
Vince Caso plays Greg with plenty of dry wit, continually trading barbs with the coterie, Jasper in particular. Greg is primarily known for his other work with Geek & Sundry, such as We're Alive: Frontier. While he's also split his time writing, Vince is a charismatic individual and has certainly drawn attention with his appearances as Gregory Demetrios.


1

Ib (Noura Ibrahim)
Ib is introduced initially as an NPC, with their actions and dialogue being carried out by Jason Carl, the Storyteller. They are Victor's ghoul, and though Victor says this was done in a mutual agreement, Ib still holds some resentment for being controlled by Victor. Eventually, the day would come when Ib would part ways with Victor, eventually becoming a Kindred themselves.
Noura would take on the role of Ib during the epilogue episodes in Season One. This would prove to be an intelligent decision as Noura proved to carry a substantial range of emotions with Ib's predicament. Noura would be relatively new to the world of acting, but one wouldn't expect so few credits to her name with the powerful performance she brings to the character. And with a history the character carried before she took on the role, fans were delighted to finally have a face to go with such a loyal character. One can only look forward to the many characters that will appear when the World of Darkness brings us to New York.

If you liked the article, do not forget to share it with your friends. Follow us on Google News too, click on the star and choose us from your favorites.
For forums sites go to Forum.BuradaBiliyorum.Com
If you want to read more Like this articles, you can visit our Social Media category.