News
#: Asian Americans felt cultural pride in Monterey Park. Now they say a mass shooting robbed them of its special place in their heritage.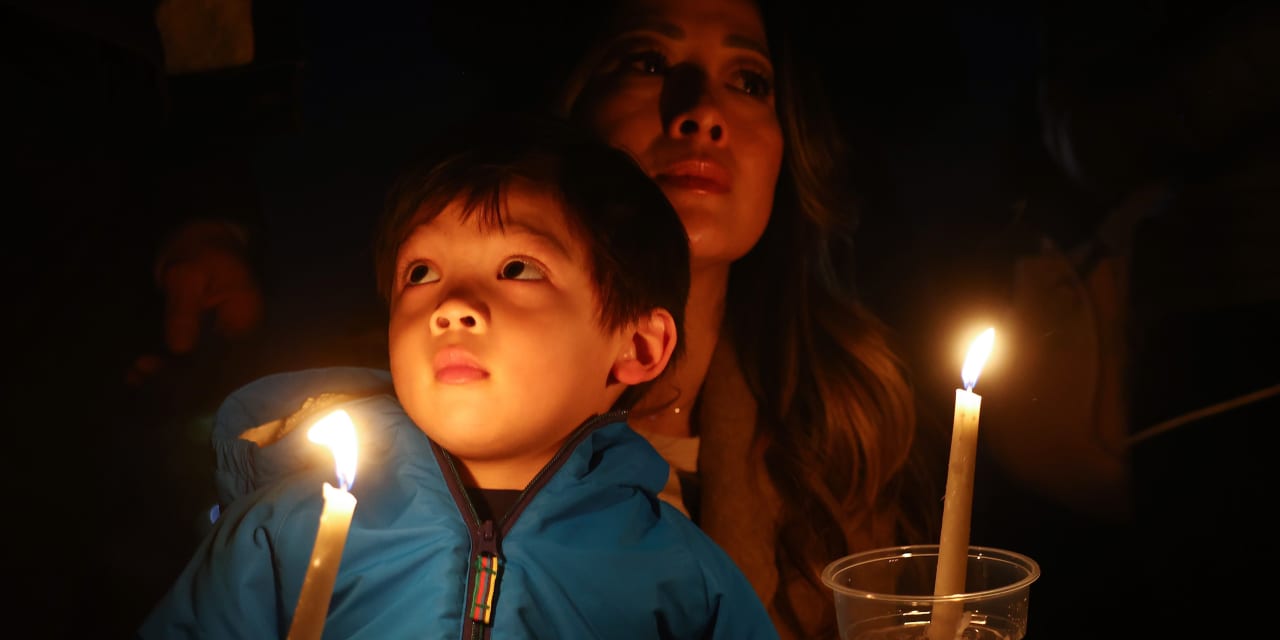 ": Asian Americans felt cultural pride in Monterey Park. Now they say a mass shooting robbed them of its special place in their heritage."
Members of the Asian-American community say they have lost their sense of safety in the safest place they could imagine

The mass shooting in Monterey Park, Calif., stunned the Asian-American community. 
Not only because the shooting happened on Lunar New Year's Eve, but also because it happened in Monterey Park, a predominantly Asian city that holds a special place in the Asian-American landscape. 
On Saturday night, a gunman opened fire at a party inside the Star Ballroom Dance Studio in Monterey Park and killed 11 people. More than 10 people were injured. 
The gunman then drove to another dance hall, the Lai Lai Ballroom in the nearby city of Alhambra, where Brandon Tsay, who works at the venue that was started by his grandparents, wrested a semiautomatic weapon away from the attacker.
The suspect, identified by the police as 72-year-old Huu Can Tran, took his own life when police closed in. Police said his motive was still unclear. 
"'The sad reality is that we are not safe in Indiana nor in Southern California.'"

— Nancy Wang Yuen, sociologist and author

On Monday, seven people were killed in shootings at a mushroom farm and a trucking firm near Half Moon Bay, a coastal community south of San Francisco. Police have arrested 67-year-old Chunli Zhao in connection with those shootings, said Dave Pine, president of the San Mateo County Board of Supervisors. Pine called the suspect, who he said worked for one of the businesses, a "disgruntled worker." 
As residents of the two California communities process the second mass shooting in the state in three days, some people in Monterey Park are saying they no longer feel safe in their city.
A week before the shooting in Monterey Bay, an Asian female student at Indiana University was stabbed in the head as she waited for a bus. The suspect in the incident said she targeted the student because she looked Chinese. 
"I was just in the Monterey Park area last week picking up Taiwanese food after talking about anti-Asian racism in Hollywood, and thinking how safe I felt in these majority Asian communities. The sad reality is that we are not safe in Indiana nor in Southern California," wrote Nancy Wang Yuen on Twitter.
Yuen is a sociologist and author of the book "Reel Inequality: Hollywood Actors and Racism." She is also the co-author of the book "The Prevalence and Portrayal of Asian and Pacific Islanders Across 1,300 Popular Films."
Another Monterey Park resident wrote on Twitter: "This gets said after every mass shooting but Monterey Park truly felt so safe. Like we were in an actual bubble." She added, "Could be your city next if nothing changes."
A rare suburban Chinatown
Monterey Park has one of the largest shares of Asians in the country. Just over 65% of its residents are Asian, and more than 73% speak a language other than English at home, according to a 2022 report by the U.S. Census Bureau. The second-largest group in the city, at 21.7% of the population, is of Hispanic or Latino descent. 
The city, situated in the western San Gabriel Valley near Los Angeles, earned the nickname the "first suburban Chinatown" in the 1990s. 
"On an early morning walk to Barnes Memorial Park, one can see dozens of elderly Chinese performing their daily movement exercises under the guidance of an experienced leader. Other seniors stroll around the perimeter of the park; still others sit on benches watching the activity around them or reading a Chinese-language newspaper," wrote Timothy P. Fong, a professor of ethnic studies at California State University, Sacramento, in his 1994 book, "The First Suburban Chinatown: The Remaking of Monterey Park."
In the 1970s, a wave of Mandarin-speaking immigrants moved into the city in the wake of the 1965 Immigration Act, which was designed to attract highly skilled workers and also allowed for people with relatives in the U.S. to immigrate. Middle-class immigrants from mainland China, Hong Kong and Taiwan gradually began purchasing homes in the area. 
In the past few years, the city has also seen an increase in the number of illegal boarding houses for undocumented workers.
Culture and politics in Monterey Park
Younger generations in San Gabriel Valley, including in Monterey Park, helped to establish a hip Asian-American cultural landscape there.
Boba tea — also known as bubble tea — was first brought to the U.S. in the 1990s by Taiwanese immigrants living in the San Gabriel Valley and became hugely popular among young people growing up in the area before becoming a phenomenon throughout the country.
"The beverage became a defining symbol of the SGV, and we cheered, in the form of millions of views, when brothers David and Andrew Fung released a 2012 music video titled Boba Life, perfectly capturing a cross-section of our culture that the mainstream had ignored," Taiwanese-American food journalist and San Gabriel Valley native Clarissa Wei wrote in LA Weekly in 2017. 
The city thrives precisely because it refuses to assimilate, unapologetically catering to its own immigrant community, according to Bianca Mabute-Louide, a Ph.D. candidate in sociology at Rice University. Mabute-Louide wrote on Twitter that Monterey Park is the first Asian ethnoburb, or ethnic enclave in the suburbs.
The city's Asian-American community has also made its mark on the national political scene. In 1992, Lily Lee Chen became the first female Chinese-American mayor in the country when she was elected mayor of Monterey Park. And in 2009, Judy Chu, a former member of the Monterey Park City Council who also served three terms as mayor, became the first Chinese-American woman elected to Congress.
"Today, this tragedy affected our Chinese-American community, but gun violence is an issue that affects every American," Chen said in a statement issued by the Committee of 100 on Monday. The Committee of 100 is a nonprofit organization made up of prominent Chinese-Americans. 
But the violence against Asian Americans is taking its toll. The sociologist Nancy Wang Yuen said: "At a local Asian grocery store, I saw an Asian American man wearing a mask in the design of stars and stripes, and it made me sad how much effort we put into proving our Americanness/patriotism/belonging, especially now."
Losing a sense of safety
Asian residents across the country said the shock and pain from Saturday's shooting in Monterey Park also stemmed from losing their hard-fought sense of safety — especially since the start of the pandemic, which has exacerbated anti-Asian xenophobia and racism, resulting in numerous attacks against Asian-American people, particularly women. 
The neglect of public attention to anti-Asian attacks in the early days of the pandemic fueled distrust and fury in the community. Marvel star Simu Liu tweeted and called out the media hours after the shooting for neglecting coverage of the shooting of the Asian community, where Asian-American journalists pushed back. 
"We remain in a state of confusion and grief," Liu tweeted after the suspect was confirmed to be a 72-year-old Asian man. He also shared resources including a GoFundMe account to help the families of victims of the Monterey Park shooting.
The motive and race of the shooter matters, but what matters more is how unsafe Asian-Americans feel, wrote Sherry C. Wang, an associate professor in the Department of Counseling Psychology at Santa Clara University.
"Asian Americans have already felt unsafe and now it's clear that we have no safe spaces anywhere, any time," she wrote on Twitter.
The City of Monterey Park will host a vigil on Tuesday at 5:30 p.m. Pacific time at the city hall. 
Mymy Nhan, 65, was among those killed at the Star Ballroom. "She spent so many years going to the dance studio in Monterey Park on weekends," her family said in a statement. "It's what she loved to do. But unfairly, Saturday was her last dance." 
The family said: "We are starting the Lunar New Year broken." 
The Associated Press contributed to this report.
If you liked the article, do not forget to share it with your friends. Follow us on Google News too, click on the star and choose us from your favorites.
For forums sites go to Forum.BuradaBiliyorum.Com
If you want to read more News articles, you can visit our News category.