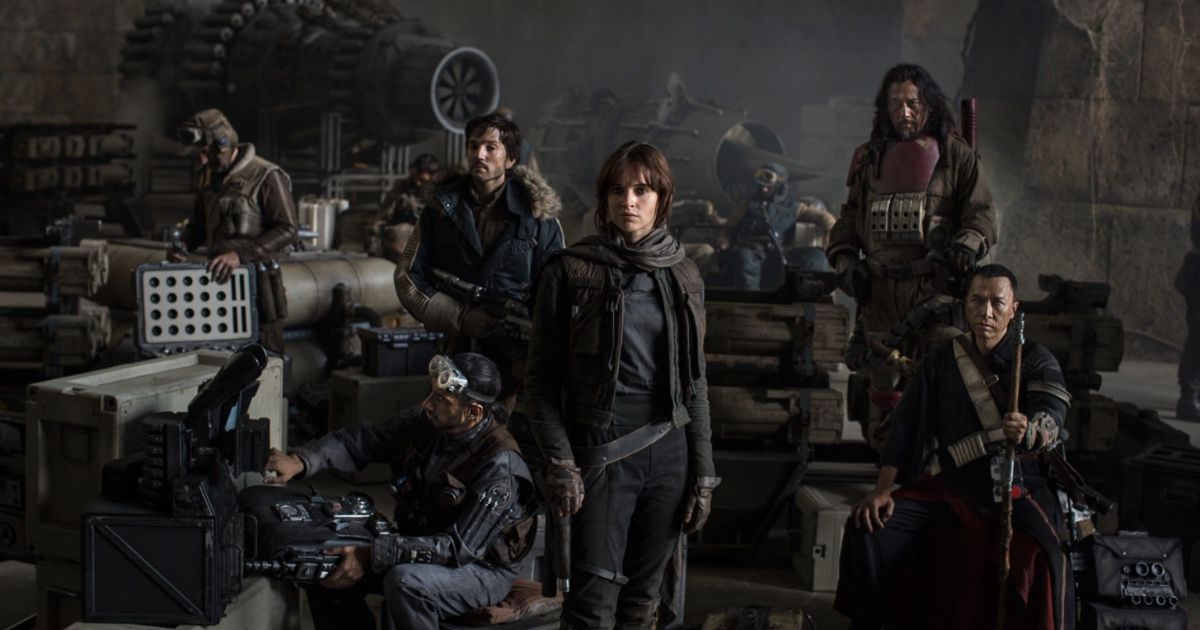 "A Star Wars Story Is Returning to Theaters"
According to Fandango, the prequel to the original
Star Wars
(1977),
Rogue One,
is returning to theaters. The 2016 film will release in theaters on August 26 across the United States market. The re-release is a move by Lucasfilms to celebrate and promote the release of the upcoming Disney+ series
Andor
.
Andor
is a prequel series to
Rogue One
, centered around Diego Luna's character Cassian Andor. The series will stretch out a story in a two-season narrative, totaling twenty-four episodes.
The decision to re-release the film comes at the proper time frame.
Andor
will begin to stream on Disney+ on September 21. The debut will be a three-episode premiere. The show was earlier supposed to start streaming on August 31. It was postponed for the next three weeks, probably to make room for
She-Hulk: Attorney At Law
.
Revisiting Rogue One: A Star Wars would be a good call as it's the first time in six years that the Star Wars era that movie brought forth would expand. The film is one of the best in the franchise and ended up grossing more than a billion dollars worldwide. Andor would take us back to the earlier days of the rebel alliance, probably dealing with its initial growth against the Empire. The early sneak peek of the series hasn't revealed much about the show's plot, but it would end up building events that led to Rogue One: A Star Wars Story.

Andor would be the next in line of Disney+ originals after The Mandalorian, The Book of Boba Fett, Obi-Wan Kenobi, and The Bad Batch – all of whom have expanded the Star Wars Saga to far more corners.

Related: Star Wars: 8 Actors Who Almost Played Anakin Skywalker

Rogue One: A Star Wars Story Expanded Star Wars to New Corners
Rogue One: A Star Wars Story was supposed to be an anthology film that would take place outside the Skywalker Saga. The film dealt with events that led directly to A New Hope. Thanks to Andor, the film's story will be further expanded, making the entire saga much more extensive than ever. It was the first event that developed Star Wars aside from the three trilogies in the live-action format. And now, Andor will make it more expansive with an amalgamation of both old and new characters.

Rogue One: A Star Wars featured Felicity Jones as Jyn Erso, who assembles a team of rebels with Cassian Andor, Bodhi Rook, Chirrut, Baze, and K-2SO. The group hatches a plan to steal the plans for Death Star, which Luke Skywalker uses to destroy the planet destroyer in Star Wars: A New Hope.

Many characters from Rogue One will appear in Andor besides Cassian. That includes Forrest Whitaker's Saw Gerrera and Genevieve O'Reilly's Mon Mothma. The series was earlier pitched as a buddy series also starring Alan Tudyk's K-2SO but was later revised to focus on Luna's character alone. Tudyk may appear in the next season of the show.
Rogue One: A Star Wars Story releases again on August 26, and Andor will begin streaming on Disney+ in a three-episode premiere on September 21.

If you liked the article, do not forget to share it with your friends. Follow us on Google News too, click on the star and choose us from your favorites.
For forums sites go to Forum.BuradaBiliyorum.Com
If you want to read more Like this articles, you can visit our Social Media category.