Social Media
#8 'Grey's Anatomy' Storylines Inspired by Real-Life Medical Cases
"8 'Grey's Anatomy' Storylines Inspired by Real-Life Medical Cases"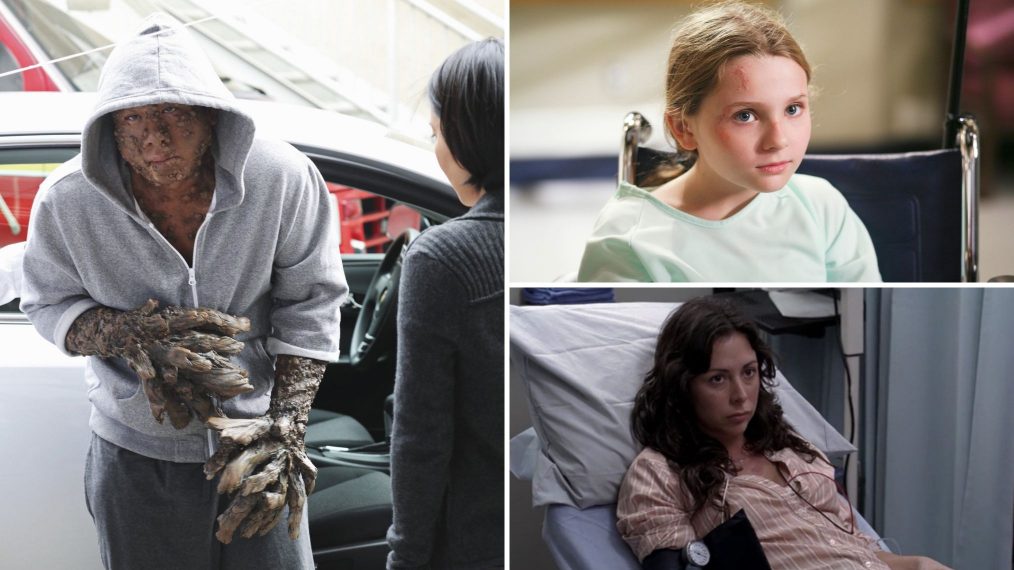 Danny Feld/Walt Disney Television via Getty Images via Getty Images; Karen Neal/Walt Disney Television via Getty Images via Getty Images; ABC
Grey's Anatomy
may not always be the most accurate depiction of medicine — this is Hollywood, after all. But the long-running ABC show (which just wrapped its 16th season) has medical professionals on staff, and the medical cases they dramatize on screen are often ripped from the headlines.
"We have a file of strange, mysterious, fun, and interesting cases to draw from, and sometimes we'll have the episode going and someone will be like, 'I really love a certain story, now let's try to frame the personal stories around this medical thing,'" Zoanne Clack, an executive producer on the show and an emergency medicine resident, told Entertainment Weekly in 2018.
And other times, the writers and cast members of the show draw upon their own medical experiences — or those of their loved ones. Scroll down for seven Grey's plotlines that were inspired by real-life medicine.
ABC
The woman who had several spontaneous orgasms a day
"That was something we read," Clack said of this Season 2, Episode 18 case. "It's definitely from a journal article — this woman who needed to get this surgery because she was having spontaneous orgasms. We tried to get it in a couple of episodes before it actually landed. We kind of kept that one to the side because we wanted to put it where it belonged, where it would fit with the story."
Karen Neal/Walt Disney Television via Getty Images via Getty Images
The girl who was immune to pain
Abigail Breslin played this patient in Season 3, Episode 3, a young girl who was diagnosed with congenital insensitivity to pain with anhidrosis, or CIPA. "That was definitely from an article," Clack told EW. "We heard about the case and the writer immediately latched onto it, and we were just trying to figure out how far we could go with this girl, thinking of all the different possibilities of how she would get injured. Making her this fearless person definitely helped with what was going on in the episode, story-arc-wise."
Danny Feld/Walt Disney Television via Getty Images via Getty Images
The man whose HPV warts grew like tree branches
"It was based on a real case," Clack said of this Season 7, Episode 3 storyline. "A little boy actually had this disease and went to go and get it treated in India or somewhere, and then they grew back again. There was a lot of video and footage about this boy to use, and we talked to a bunch of experts about it. It was really interesting because I really didn't even understand how warts turn into that. We also had to figure out how this could happen in America, because the little boy that it had happened to was in this little remote village on some island [and] so didn't have access to care. So we had to base our premise on the character's reclusive backstory, and then we were able to pull it up and use it."
Ron Tom Walt Disney Television via Getty Images/ via Getty Images
The Santa Claus with persistent vomiting and nausea
This storyline in Season 9, Episode 6 — in which a homeless Santa Claus's cyclic vomiting syndrome was misconstrued by the docs as a way for him to score drugs — was inspired by star Chandra Wilson (Miranda Bailey), who directed the episode (see above), and her experience with her daughter, who has the syndrome. "She would get these terrible bouts of vomiting and stabbing abdominal pains," Wilson told People. "I thought, 'This was crazy.' Something was wrong with my daughter, and nobody could tell me what it was."
ABC
April's baby with osteogenesis imperfecta
Actress Sarah Drew (April Kepner) told The Hollywood Reporter that April and Jackson's unborn son's Season 11 diagnosis of type II osteogenesis imperfecta — a brittle bone disorder — was inspired by a family friend's experience. "When I found out that April was pregnant, I told [creator] Shonda [Rhimes], 'Oh, you're totally going to use that story that happened to my friend, right?'" she recalled. "She wasn't planning on it but said it's amazing and that they were totally going to use that. I got really excited about it because I thought it would be amazing to see how a couple, where one person is a person of faith and one person isn't dealt with a scenario like this and what that struggle would be and hopefully offer a not so black-and-white way of looking at this."
Richard Cartwright via Getty Images
Meredith's mini-liver innovation
The University of Pittsburgh's McGowan Institute for Regenerative Medicine blogged in 2018 that Meredith's (Ellen Pompeo) idea to generate "mini livers" using lymph nodes — her entry in Season 14's surgical innovation contest — was inspired by the research of Dr. Eric Lagasses, a faculty member at the institute whose lab had been experimenting with developing an ectopic liver in the lymph node.
ABC/Mitch Haaseth
Catherine's cancer diagnosis
Elisabeth R. Finch wrote Season 15, Episode 11 and based Catherine's (Debbie Allen) experience with cancer on her own. "[Grey's showrunner] Krista Vernoff heard me talking one day in the room about how much I hated the words 'battle,' 'fight,' 'win,' 'lose' when it comes to cancer," she told EW. "How hurtful it is, how destructive it can be to someone with cancer. Because what is winning? What is losing? Does that mean someone who died of cancer just didn't fight hard enough? She asked me if I'd consider writing a story similar to my own, of someone living with cancer. Someone who has an illness they're managing but still has a full life, a job and family and friends."
ABC/Raymond Liu
Richard's cobalt poisoning diagnosis
As Season 16 came to an end with an early finale, Richard (James Pickens Jr.) finally found out what was causing his erratic behavior: cobalt poisoning, from his hip replacement. Both the diagnosis and his prognosis (he'll recover) are based in facts. "The cobalt poisoning thing is real and it really can cause all of those symptoms," showrunner Krista Vernoff told Deadline. "It can cause dementia-like symptoms. It can cause Parkinson's-like symptoms—tremors, hallucinations—and the amazing thing about it is that once you diagnose it, and you get the leaky hip out of your body, you can recover, totally."
If you want to read more Like this articles, you can visit our Social Media category.
if you want to watch Movies or Tv Shows go to Dizi.BuradaBiliyorum.Com for forums sites go to Forum.BuradaBiliyorum.Com