Social Media
#6 Best Tidbits From the 'Office,' 'PLL' & More Virtual Cast Reunions
"6 Best Tidbits From the 'Office,' 'PLL' & More Virtual Cast Reunions"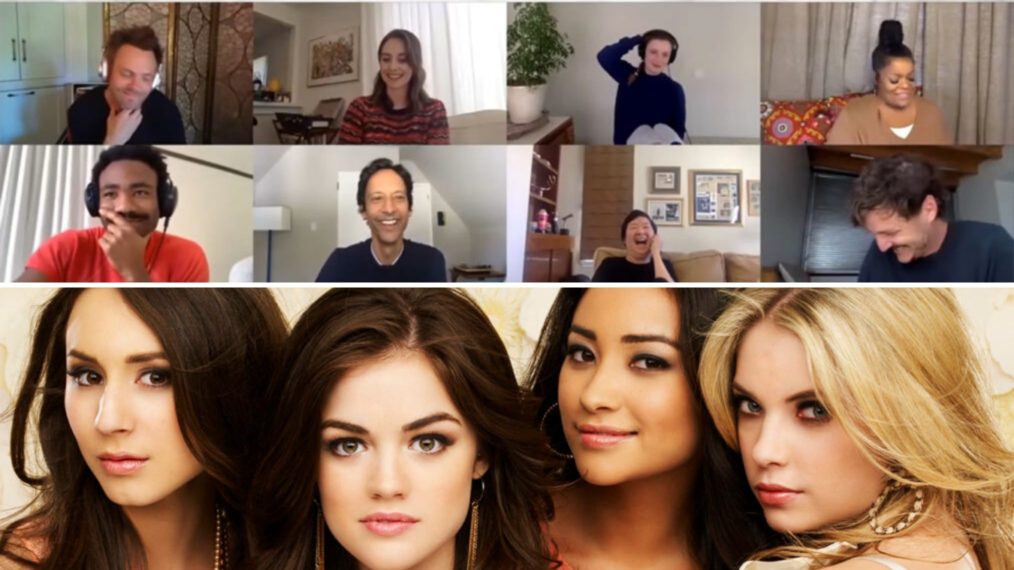 Andrew Eccles/Walt Disney Television via Getty Images
Who knew social distancing could bring so many old costars back together? During the nationwide shutdown, these actors from bygone shows like
Pretty Little Liars
,
The Office
, and more, have been keeping busy by video-chatting with each other.
Read on for some of our favorite tidbits from their candid talks.    
Community: Donald Glover is excluded from the cast's group texts
He's not part of this community! Cast members from the 2019–15 NBC/Yahoo Screen college-set comedy, including (clockwise from top left) Joel McHale, Alison Brie, Danny Pudi, and Donald Glover, reconvened in May. In one awkward moment, Glover learned his costars text without him: "We assumed you were too busy," Yvette Nicole Brown explained to the creator, exec producer, and star of FX's Atlanta.
The Office: After filming the pilot, John Krasinski worked as a waiter
During its 2005–13 run, NBC's comedy was hailed by critics, earned 42 Emmy nominations and took home five. But star John Krasinski, who played bored paper sales rep Jim Halpert, didn't foresee its success. "After [filming] the pilot, I went back to waiting tables because I was sure nothing was going to happen with it," he revealed to former costar Steve Carell (above left, with Krasinski) during a March conversation.
Will Hart/NBCU Photo Bank/NBCUniversal via Getty Images
Smash: The original script was extremely racy
The 2012–13 drama, developed for cable channel Showtime, went through major  rewrites before landing at NBC. During a May chat, Katharine McPhee (above), who starred in the show about the making of a Marilyn Monroe Broadway musical, noted the nudity in an early version. Of the "watered-down" script, costar Debra Messing recalled, "I was like, 'Where's the sex?'"
Andrew Eccles/Walt Disney Television via Getty Images
Pretty Little Liars: The cast agreed to a movie
These little liars aren't through scheming just yet. In May, TV Guide Magazine's Damian Holbrook moderated a virtual panel with the posse from ABC Family/Freeform's 2010–17 mystery-thriller, and all the major players, including (above, from left) Troian Bellisario, Lucy Hale, Shay Mitchell, and Ashley Benson, said they were on board for a movie. Exclaimed Hale, "We just need to do it!" Pretty please!
Bill Records/NBCU Photo Bank/NBCUniversal via Getty Images
Friday Night Lights: Taylor Kitsch was wildly competitive
The guys who played the Dillon Panthers tossed the pigskin even when the cameras weren't rolling on the football drama. Some cast members from NBC and DirecTV's 2006–11 series recalled in an April chat that Taylor Kitsch (above, as fullback Tim Riggins) gloated during a game when costar Jesse Plemons suffered a knee injury. "Kitsch was like, 'Oh yeah!'" claimed Scott Porter.
Dana Fineman/Fox/Courtesy Everett Collection
Melrose Place: The complex's courtyard pool was a "petri dish"
The pool in the courtyard of fictional L.A. apartment complex Melrose Place was home to fights, death scenes…and, possibly, bacteria. "It was like a petri dish!" Doug Savant, who costarred on Fox's 1992–99 primetime soap, said in an April video call with other actors including Thomas Calabro (above, with Jamie Luner) and Laura Leighton, who agreed: "[It was heated] to the point of being gross," she said.
If you want to read more Like this articles, you can visit our Social Media category.
if you want to watch Movies or Tv Shows go to Dizi.BuradaBiliyorum.Com for forums sites go to Forum.BuradaBiliyorum.Com