Social Media
#10 Things You Didn't Know About the Cast of Sing 2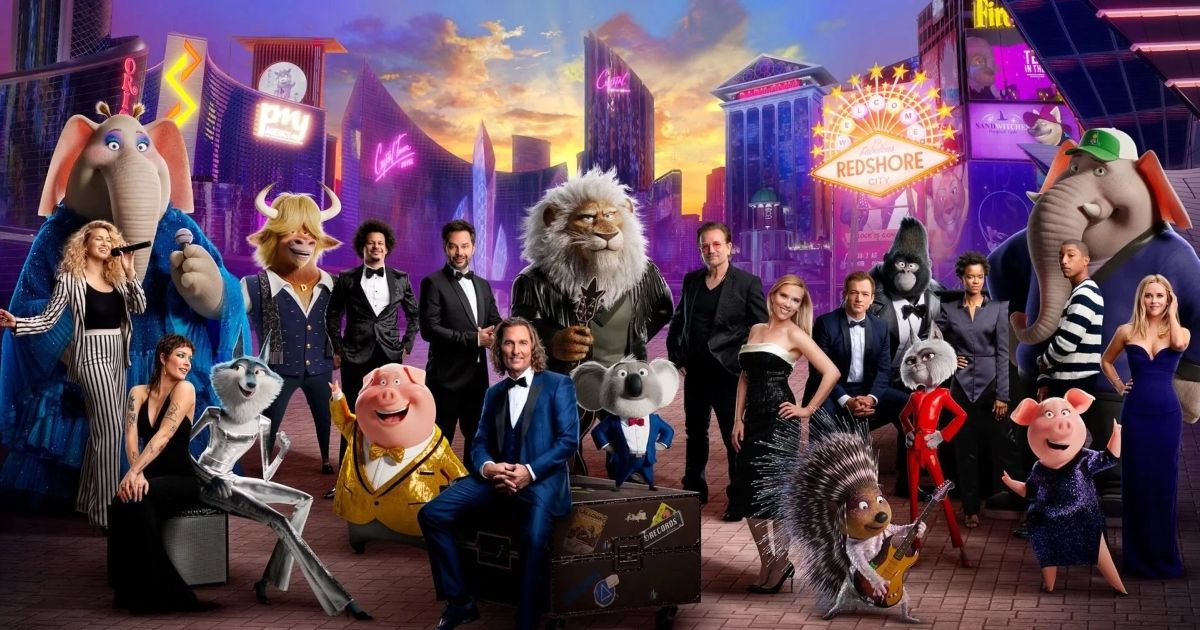 "10 Things You Didn't Know About the Cast of Sing 2"
Ever since Illumination Entertainment released the first Despicable Me installment in July 2010, their productions have been constantly outperforming each other. Among its most successful projects is the Sing franchise, with two installments that have earned over $1 billion worldwide. Sing, written and directed by Garth Jennings, was released in 2016, featuring an ensemble cast of some of the best actors and singers in the industry: Matthew McConaughey, Taron Egerton, Reese Witherspoon, Scarlett Johansson, Tori Kelly, and Nick Kroll, among others. The movie revolves around Buster Moon (McConaughey), a performing arts-loving koala who owns a struggling theater. Buster is willing to do anything to save his beloved theater, which is why he holds a singing contest for unknown talents from the city, but due to a mistake made by his clumsy secretary, the contest prize totals a sum of money that he does not have. Fortunately, a hand-picked group of contestants helps him save the theater, eventually forming Buster Moon's hit musical troupe.



As a result of Sing's great success, a sequel, Sing 2, was released in December 2021, where the audience sees Buster's troupe embarking on a new adventure, this time aiming to make it big in Redshore City, the world's entertainment capital. The majority of the actors reprised their roles in this film and brilliantly performed some of the music industry's all-time classics, with U2's Bono joining the cast. This article will go over some unknown facts of this renowned ensemble cast.

10

The Film's Director is Also Part of the Cast
Garth Jennings is the director and writer responsible for the success of Sing and Sing 2, but this franchise wasn't his first filmmaking job in the industry. Jennings also directed The Hitchhiker's Guide to the Galaxy, Son of Rambow, and Madame, and he has been acting and giving voice to different animated characters since 2004. Sing couldn't be the exception, as the director picked a very special character to voice: Miss Crawly, a clumsy yet very loyal iguana who works as Buster Moon's secretary. This character was so warmly received by the audience that, one year after the release of Sing, Crawly starred in the short film Love At First Sight.

Related: Sing 2: Best Songs in the Movie, Ranked

9

Bobby Cannavale Never Got Any Acting Training
In Sing 2, Bobby Cannavale is Jimmy Crystal, a male Artic wolf who leads the entertainment industry and serves as the antagonist of the production. A lesser known fact about this actor, famous for his roles in film, television, and even on stage, is that his acting training comes strictly from the jobs he did, as he decided not to be formally trained. In several interviews, Cannavale stated that he had originally enrolled at the Lee Strasberg Theatre and Film Institute, only to drop out less than three months after discovering that one of his professors was trying to steal his girlfriend.

8

Halsey's Real Name
Halsey plays Porsha Crystal, the spoiled daughter of Jimmy Crystal, in her second cinematic participation. This American singer is one of the most successful women in the contemporary music industry, but in her early days, she didn't feel capable of succeeding the way she was. Therefore, the artist, who is actually named Ashley Nicolette Frangipane, eventually adopted Halsey as her stage name. The inspiration behind her new name came from where she lived, Halsey Street in Brooklyn, which is also an anagram of Ashley.


7

Sing Was Tori Kelly's Feature Film Debut
Tori Kelly is an American singer and songwriter who launched her career by winning the TV contest America's Most Talented Kids in 2004. Six years later she competed in American Idol, and even though she was not among the selected contestants, it helped her boost her career. To date, Kelly holds four musical albums, and by 2016, she ventured into a completely new field: acting. In the Sing franchise, she lent her powerful voice to Meena, a shy teenage elephant who suffers from stage fright. This was only the start of Kelly's acting career, as this year she landed another voice role, this time as Cynthia in the Rugrats episode "Rescuing Cynthia".

6

Nick Kroll: The Mastermind Behind Big Mouth
Nick Kroll is Gunter, the fun-loving and self-confident dancing pig of Buster Moon's troupe. However, Kroll is also known for one of his other hits: the actor, comedian, producer and writer is, along with Andrew Goldberg, Mark Levin, and Jennifer Flackett, responsible for creating Big Mouth, the adult animated coming-of-age sitcom that explores puberty. In fact, the show is based on Kroll and Goldberg's story, two friends from childhood who inspired the creation of Big Mouth's main characters, Nick Birch and Andrew Glouberman. Not only does Kroll voice Birch, but also seven other characters, including Maurice, the Hormone Monster.

Related: Best Family Movies of 2021, Ranked

5

Sing: Taron Egerton's Lifelong Dream
Taron Egerton's career took off just ten years ago, but he has already delighted audiences with stunning roles in films such as Kingsman: The Secret Service, Testament of Youth, and Rocketman, a role that earned him a Golden Globe Award for Best Actor – Motion Picture Musical or Comedy. However, it was his role as Johnny, the singing, piano-playing gorilla in Sing that enabled him to fulfill two of his greatest dreams: voicing an animated character and singing for a movie role.

4

Scarlett Johansson and Her Music Career
Scarlett Johansson's role as Ash, the punk rock-loving porcupine, has probably taken many people by surprise. Yet, a lesser-known fact about Johansson, who is one of the highest-grossing box office stars of all time, is that in addition to her career in the film industry, she has also pursued a music career. She released two records: Anywhere I Lay My Head, mainly composed of Tom Waits covers, and Break Up, in duet with Pete Yorn.


3

Bono is an Honorary Knight of the British Empire
Bringing Irish singer-songwriter Bono into Sing 2's cast as Clay Calloway was a complete surprise to the audience, and it marked one of the few film appearances by U2's lead singer where he did not appear as himself. In 2007, per Billboard, he made headlines because Elizabeth II of the United Kingdom granted him an honorary knighthood for his services in the music industry and his humanitarian work. Some years later, in 2013, Bono was also made Commandeur of the French Ordre des Arts et des Lettres.

2

The Initial Push for Reese Witherspoon's Films
Reese Witherspoon stars as Rosita, the pig who gave up her dreams of becoming a singer due to becoming a mother. Witherspoon is well-known for her brilliant film roles, such as Elle Woods in the comedy Legally Blonde and Melanie Smooter in Sweet Home Alabama. Over the past few years, Reese has also gained recognition as a producer and founder of the media company Hello Sunshine, spawning major hits such as the film Gone Girl and the series Big Little Lies and The Morning Show. However, not many people know that Witherspoon made the decision to become a producer after she received what she described as a terrible script for a comedy, where she was offered the role of the leading man's girlfriend, a role that was being disputed by a number of highly regarded actresses from the industry. Acknowledging that most actresses were being offered poor-quality parts, she decided to step in, working on productions that offer fresh perspectives about and more opportunities for women.


1

Matthew McConaughey Took On the Project For His Children
Matthew McConaughey excels in every project in which he is cast, and has played parts in almost every film genre. Until 2016, however, he never took part in an animated movie. That changed when he decided to accept the role of Buster Moon, the theater-loving koala leading the Sing franchise. The reason behind this decision was that he wanted to star in a family film that he could watch with his children, since none of his previous films were appropriate for kids. Furthermore, McConaughey got to share a wonderful time with his daughter Vida while working in Sing 2, as she also appeared in the film voicing one of Rosita's piglets.
If you liked the article, do not forget to share it with your friends. Follow us on Google News too, click on the star and choose us from your favorites.
For forums sites go to Forum.BuradaBiliyorum.Com
If you want to read more Like this articles, you can visit our Social Media category.